Nvidia has introduced the HGX-2, a cloud server platform equipped with 16 Tesla V100 graphics processing units (GPUs) for training artificial intelligence models and running high performance computing workloads.
Server makers Lenovo, QCT, Supermicro and Wiwynn will release their own versions of HGX-2 systems later this year, as will original design manufacturers (ODMs) Foxconn, Inventec, Quanta and Wistron.
Nvidia previously debuted its own take on the platform, the DGX-2; with this new announcement, the company opens the reference architecture to other manufacturers. The 16 GPUs are linked using Nvidia's proprietary interconnect fabric, NVSwitch.
Coming to a data center near you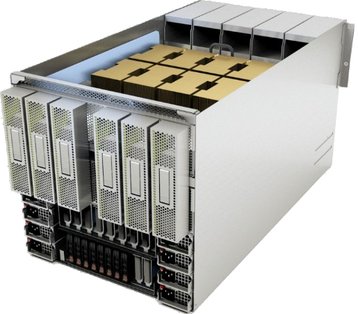 "The world of computing has changed," Jensen Huang, Nvidia founder and CEO, said at the company's GPU Technology Conference in Taiwan.
"CPU scaling has slowed at a time when computing demand is skyrocketing. Nvidia's HGX-2 with Tensor Core GPUs gives the industry a powerful, versatile computing platform that fuses HPC and AI to solve the world's grand challenges."
The HGX-1, announced last year, was adopted by many of the world's largest server makers and used by Amazon Web Services, Facebook, and Microsoft, with the latter integrating it into its Project Olympus open server design.
Charles Liang, president and CEO of Supermicro, said: "We are very honored to work with Nvidia as a partner. The demand for AI cloud computing is emerging in today's modern technology environment.
"I strongly believe the high performance and modularized flexibility of the HGX-2 system will make great contributions to various computing areas, ranging from academics and science to government applications."
Together, the 16 GPUs provide half a terabyte of HBM2 memory and two petaflops of compute power.
For more on Nvidia, be sure to check out our recent feature on the company's meteoric rise as the world turns to simulation in an effort to solve all of its problems.