Nvidia plans to sell a liquid-cooled PCIe card for its A100 server GPU in the third quarter.
It will follow this in early 2023 with a liquid-cooled PCIe card for the next-gen H100 chip.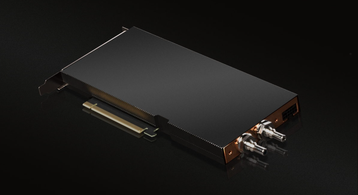 The company previously offered liquid-cooled A100s, but only in the SXM form factor that goes into the its own HGX server board. The new PCIe form factor will be more broadly available, with around a dozen server makers lining up to incorporate the GPUs later this year.
Among the companies are ASUS, ASRock Rack, Foxconn Industrial Internet, Gigabyte, H3C, Inspur, Inventec, Nettrix, QCT, Supermicro, Wiwynn and xFusion.
The direct-to-chip cooling cards will use just one PCIe slot in a server, rather than the two required by air-cooled ones.
The company said that it partnered with Equinix to test out the new servers, claiming that it could match the performance of an air-cooled A100 while consuming 30 percent less power and using 66 percent fewer racks.
"This marks the first liquid-cooled GPU introduced to our lab, and that's exciting for us because our customers are hungry for sustainable ways to harness AI," Equinix Metal head Zac Smith said.
"This is the start of a journey," he added.