Nvidia will soon start offering a game streaming service in the US, with games running in cloud data centers but being controlled by actual users.
Launching in early access this March, with a full service set for the spring, prices for GeForce Now start at $25 for 20 hours of play.
Pay to play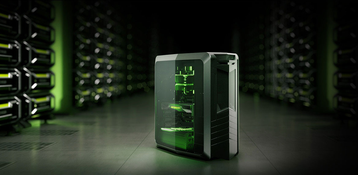 That $25 will give gamers access to a GTX 1060 based virtual machine for 20 hours, or they can opt for ten hours on a GTX 1080.
GeForce Now differs from the PlayStation Now cloud gaming service, where you rent access to the game while you play. Instead, players have up to 1TB of storage that they can use to install their own titles from existing game stores including Steam, Origin, GOG and Uplay.
This means users will have to pay for both the game and the streaming service, but will retain ownership after they stop streaming.
"There are more than 200 million GeForce gamers around the world today, yet hundreds of millions of others have computers that aren't well-suited for modern video games," Jen-Hsun Huang, founder and CEO of Nvidia, said.
"With GeForce Now, a new generation of gamers can now play the latest PC games with great performance and amazing quality," he added. Those gamers, who will be able to use both Windows and Mac, must have Internet speeds of 25 Mbps or more, and live within the continental United States.
Nvidia did not reveal whether it plans to partner with a third-party cloud provider, or run the service using its own facilities. It is worth noting that Amazon offers Nvidia's Tesla K80, K520, and M2050 GPUs, rather than GeForce chips. Tesla is generally seen as more suitable for data centers, designed with deep learning workloads in mind, as well as offering superior power efficiency.
Cloud strife
As we detailed in our look at the impact of video games on the data center, offering a game streaming service is far more challenging than a video streaming service like Netflix. Not only is the infrastructure investment higher due to the need for a powerful gaming rig for each user, but latency becomes much more of a factor.
When streaming games, latency must be low enough for players to make split-second gameplay decisions, without any lag leading to their premature 'death'. This challenge, and the off-putting price, led to the demise of OnLive, a company which in 2010 tried to offer cloud gaming, after attracting investment from Warner Bros, Autodesk, AT&T, BT and Belgacom.
Sony Entertainment eventually bought the assets and intellectual property of OnLive after it went bankrupt in 2015. Sony merged the assets with Gaikai, a rival streaming service it picked up for $380 million in 2012, and relaunched the service as PlayStation Now. But PS Now, which costs $180 for a year of access to several hundred games, only plays PlayStation 3 titles - and everything inside a PS3, based on 2006 hardware, is significantly cheaper than a single modern Nvidia GPU.
Since its launch in 2014, Sony has yet to offer any definite subscriber figures.