At its annual GPU Technology Conference, Nvidia announced an autonomous vehicle simulation system for the data center. The reveal comes as Uber, along with Nvidia and others, suspended live trials following a fatal crash in Arizona.
Drive Constellation consists of two servers - one to render a virtual world and present it from the perspective of a self-driving vehicle, and another to drive in that world. The main aim is to produce data that will enable self-driving vehicles to approach the mileage clocked up by human-controlled vehicles sooner than would be possible by live trials, as well as allow for rapid simulation of edge scenarios.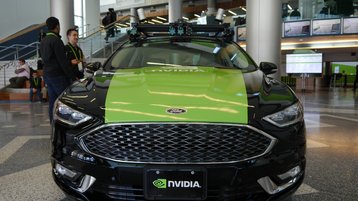 Virtual road rage
In a keynote speech, CEO Jensen Huang said: "It turns out that civilization drives about 10 trillion miles each year. A fleet of 20 test cars can cover one million miles per year."
The aim of Drive Constellation is to shorten the gap between the 10 trillion miles made by humans, and the few million an autonomous fleet can cover.
"We know how to build virtual reality worlds," Huang continued. "In the future there will be thousands of these virtual reality worlds, and [Drive Constellation] will be driving in them.
"We're going to have thousands of Constellations - with 10,000 Constellations we can cover 3 billion miles a year."
Danny Shapiro, Nvidia's senior director of automotive, said: "We can simulate photoreal camera feeds from front-facing cameras, rear cameras, side cameras, as well as radar and lidar. Essentially we're running the complete hardware-software solution that would normally be in the vehicle, but we've moved it to the data center.
"Instead of actuating a steering wheel or the brakes on a real vehicle, it sends those commands back to the simulator to then drive. It does this 30 times a second. This gives us the ability to drive billions of miles, in a safe, confined environment. We can test in the rain, in the snow, we can simulate hazard corner cases. We can refine the algorithms over and over and over, and perfect it before we ever put it on the road."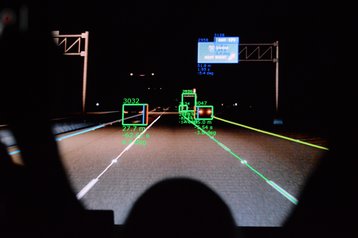 But Nvidia was strangely reticent about the business model behind Nvidia Drive Constellation. When asked directly by DCD, Shapiro said: "This is a new data center product, it's going to be something that we're going to be using on all of our simulations and we'll be making it available to all of our early access customers in the third quarter.
"Whether it is on cloud, on-prem, in the data center remains to be determined."
The product appears somewhat similar to the internal system used by Alphabet's Waymo, known as 'Carcraft,' which it has used to simulate over five billion miles of autonomous driving. Waymo, which is generally believed to be the market leader in self-driving vehicles, announced two weeks ago that it would be moving into the self-driving truck business, and would start by supplying gear to Google's Atlanta data center.
The company, which uses Intel chips inside its autonomous vehicles, today announced a major expansion to its real-world self-driving car plans. Waymo has turned to Jaguar Land Rover to build up to 20,000 all-electric I-Pace SUVs and add them to its fleet within two years.
Waymo expects to launch a commercial ride-hailing service in 2020, after smaller trials in some US cities, with a goal of completing up to one million trips a day.
The dangers of new technology
Nvidia's Drive Constellation comes at a dark time in the world of autonomous vehicles, after an Uber self-driving car recently killed a pedestrian who was crossing the road. Uber has suspended its driving program, and the state of Arizona has barred the company from resuming tests.
"We should give Uber the chance to come out and say what happened, I can assure you that they are equally crushed in what they learned," Nvidia's Jensen said. In January, the two companies announced that Uber would use Nvidia technology in its cars (although not Drive Constellation, as it is not available yet).
After the death, Nvidia also suspended its real-world self-driving tests, which it has carried out in New Jersey, California, Japan, and Germany.
Jensen said: "We use extreme caution and the best practices we know how in training our cars. The reason why we suspended was very simple – there was obviously a new data point with what happened, so we're going to wait to see what we can learn."
The price of both Uber and Nvidia shares fell sharply after the tests were suspended.