Nvidia has announced a new GPU based on its upcoming Hopper architecture.
The Hopper architecture replaces Ampere, which has more than $10 billion sales to date. The H100 GPU is the first chip based on Hopper, and is designed for AI and supercomputing workloads in the data center.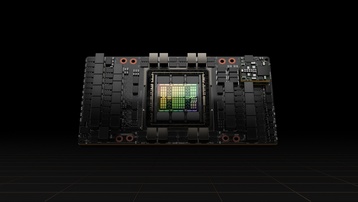 The H100 GPU is manufactured on a 'custom version' of TSMC's 4N process, with 80 billion transistors - 68 percent more than the prior-generation 7nm A100 GPU. It is the first GPU to support PCIe Gen5 and the first to utilize HBM3, enabling 3TB/s of memory bandwidth.
The new GPU provides up to 30 teraflops of peak standard IEEE FP64 performance, 60 teraflops of peak FP64 tensor core performance, and 60 teraflops of peak FP32 performance.
The H100 GPU includes a 'Transformer Engine' component that's designed to speed up specific categories of AI models.
"Data centers are becoming AI factories — processing and refining mountains of data to produce intelligence," Nvidia founder and CEO Jensen Huang said.
"Nvidia H100 is the engine of the world's AI infrastructure that enterprises use to accelerate their AI-driven businesses."