At its SC18 keynote, Nvidia announced that it has expanded its NGC container registry, the pre-integrated and optimized containers that make running workloads on the company's GPUs easier.
Up from 18 last year, the NGC container registry now offers a total of 41 frameworks and applications. At SC18, the company added new multi-node HPC and visualization containers, which allow supercomputing users to run workloads on large-scale clusters.
NGC containers can now also be used natively in Singularity, a container technology often used in supercomputers. "We have Docker for hyperscale and Singularity for supercomputers," Nvidia CEO Jensen Huang said during his keynote.
Contain yourself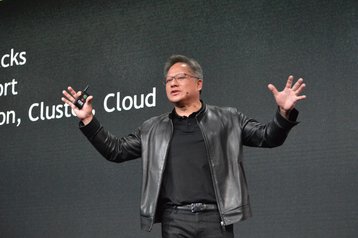 Containers from the NGC container registry will work on platforms including Amazon Web Services EC2, Google Cloud Platform, Microsoft Azure, Oracle Cloud Infrastructure, Nvidia DGX systems, and select Nvidia Titan and Quadro GPUs.
The company also announced NGC-Ready, a program that certifies servers as suitable for NGC. Initial NGC-Ready systems include:
ATOS BullSequana X1125
Cisco UCS C480ML
Cray CS Storm NX
Dell EMC PowerEdge C4140
HPE Apollo 6500
Supermicro SYS-4029GP-TVRT
"There's a whole bunch of new stuff on NGC," Huang said. "New acceleration containers, machine learning, data analytics, Matlab, multi-node acceleration stacks...
"This is not the app store for apps you want, this is the app store for the apps you need."