Romit Shah, of Japanese financial holding company Nomura, has raised his rating on the shares in silicon specialist Nvidia, after spending time with CEO Jen-Hsun Huang and hearing about the company's plans for the future.
The Wall Street analyst said that Huang "was very enthusiastic about the prospects for the data center business, as hyperscale companies quickly adopt throughput computing in an effort to accelerate workload performance." Shares jumped three percent on the news.
Accelerating growth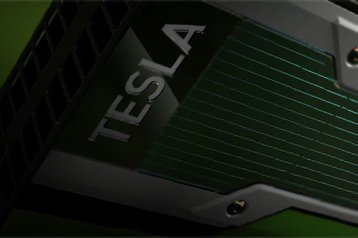 Nvidia's year-on-year data center revenues grew by 63 percent last quarter, mostly due to the "broad adoption" of Tesla M40 GPU accelerator. Nomura believes the company has an 80 percent share of the accelerator market, which accounts for less than one percent of overall data center spending.
Released late last year, the Tesla M40 GPU was designed for machine learning, and features 3,072 CUDA cores and 12GB of GDDR5 memory, with up to seven Teraflops of single-precision performance.
Nvidia claims that for machine learning workloads, the accelerator can deliver eight times more compute than a traditional CPU. The product's debut came soon after Google open sourced its GPU-reliant TensorFlow machine learning framework.
Speaking to analysts earlier this year, Nvidia's CEO shared his views on the importance of machine learning: "In terms of how big that is going be, my sense is at almost no transaction with the Internet will be without deep learning or some machine learning inference in the future. I just can't imagine that.
"There's no recommendation of a movie, no recommendation of a purchase, no search, no image search, no text that won't somehow have passed through some smart chatbot or some machine learning algorithm so that they could make the transaction more useful to you.
He concluded: "I don't know exactly how big it's going to be, but here's my proposition. This is going to be the next big computing model. The way that people compute is that in the past, software programmers wrote programs, compiled it, and in the future, we're going to have algorithms write the software for us. And so that's a very different way of computing, and I think it's a very big deal."