Hyperconverged infrastructure vendor Nutanix has unveiled Xpress, a brand new family of products aimed at small-to-medium businesses.
Xpress offers compute and storage resources, as well as virtualization support, in a single 2U appliance with prices starting at $25,000. It represents a major shift from the company's previous efforts, which were aimed at customers who run hyperscale data centers with thousands of machines.
According to Nutanix, Xpress servers can be deployed in under 60 minutes and managed by a single IT professional.
The company has also launched InstantON servers aimed at Virtual Desktop Infrastructure (VDI) deployments that have been certified by Citrix and include all the necessary software licenses.
All-in-one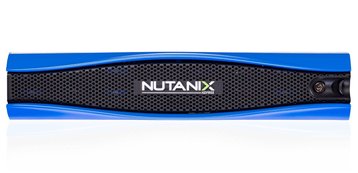 Xpress aims to streamline IT infrastructure for businesses that require just a few server cabinets. A 2U appliance contains four half-rack nodes, but a single deployment can start with just three of these.
Xpress supports both hard drives and SSDs, with the software taking care of intelligent storage tiering. The platform offers a choice of Broadwell CPUs, and supports both 1Gb and 10Gb connectivity.
A single Xpress appliance can power anywhere between 5 to 500 virtual machines through the built-in Nutanix AHV hypervisor, so there are no costs associated with additional software components from virtualization vendors.
It also supports backup to public cloud through the Cloud Connect service – although the choice of providers is currently limited to AWS and Microsoft Azure.
Suda Srinivasan, director of product marketing at Nutanix, told DatacenterDynamics that Xpress is not a stripped-down or rebadged version of a more expensive server. Whereas InstantON – another new Nutanix product – is based on the NX server line, Xpress features brand new hardware created by its own, dedicated team of designers and engineers.
"In support of this new initiative, Nutanix is building new go­to­market strategies with its channel, developing additional training and augmenting its world­class support organization," added Raja Mukhopadhyay, VP of product management at Nutanix.
Nutanix Xpress will be available worldwide through authorized resellers and distributors in July 2016.
Nutanix InstantON VDI for Citrix will be available for ordering in June 2016.