Nuage Networks, an Alcatel-Lucent venture specializing in software defined networking (SDN) and network function virtualization (NFV), says it can solve some of the problems faced by network providers and large enterprises that are unable to keep up with virtualization of compute and storage.
Telcos and enterprises are looking for networks that are more dynamic, agile, scalable, easy to provision and affordable than traditional infrastructures, and are turning to technologies like SDN and NFV to make this happen, we were told at briefing at the company's Mountain View HQ.
Nuage has signed several large SDN-related deals recently, including the deployment of its Virtualized Services Platform inside data centers run by European hosting provider OVH. Meanwhile parent Alcatel-Lucent - soon to be acquired by Nokia - has in the last few days signed deals with China Mobile and China Unicom that total $1.3bn. They want Alcatel-Lucent to virtualize their networks and need the NFV and SDN technologies that Nuage has been spun-off to build.
The Silicon Valley start-up has created an automated, policy-driven network virtualization platform to ease the way for SDN which it briefed us about at its headquarters. 
What Nuage Networks is trying to do
SDN and NFV virtualize the network control plane and networking tasks - like load balancing and firewalls - enabling them to be run on low-cost commodity systems. 
The platform allows enterprise and cloud providers to increase the flexibility and security of their networks while also reducing operating expenditure for organisations. Nuage Networks maintains that it has solved a major constraint to the adoption of SDN technologies – the visibility between the virtualization and networking layers.
Nuage was launched in 2013 and currently boasts 75 pilot deployments and over 20 other clients including large enterprises, cloud providers and service providers.
"There is incredible activity within the very largest businesses", Nuage Networks' CEO Sunil Khandekar told us, "they desperately want to overhaul their IT infrastructures completely in line with their businesses. They need to transform themselves completely and they need to be able to do it often, fast and easily. What Nuage has delivered is a platform which enables the larger enterprise to fully exploit the benefits of cloud."
"Cloud has completely changed the way applications are being consumed both by consumers and enterprise users. We want access to our smartphones, tablets and other devices anytime, anyplace and always-on. The network must therefore support the cloud, rather than be allowed to act as an obstacle to growth. We are now in the era of instant gratification."
He said that enterprise developers do not want to have to go through a lengthy, e-mail-driven conversation with their network provisers - which may take months – to deliver the network they need. They want to develop it as code and they want to push a button and they want it to be deployed and that's what they are doing through SDN.
We find that only 8 percent of most networks are being utilized efficiently

Sunil Khandekar, CEO, Nuage Networks
Khandekar said: "The first thing we found was that the network was very brittle and very difficult to deploy. Static networks are complex, custom, costly and closed. We find that only 8 percent of most networks are being utilized efficiently. So we turned our view of the network around – for the past two decades the 'network' has been 'the product' the way which we look at it the application delivery is 'the product' so as needs change so did our approach to networks."
Khandekar used a simple analogy to demonstrate this process: "When we buy from Amazon we click the button that says 'pay' but before that we have clicked a button to choose our delivery address – we don't have to pick the courier and the route – Amazon has cleverly done that for us. That is what we are doing for the network."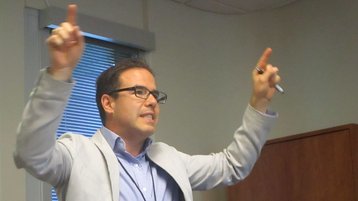 Orchestrate the network
To achieve this, the emphasis has to be on application delivery as the product, meaning the network can become highly automated rather than static, as has previously been the case. As Charles Ferland, vice president of business development said: "Applications are more interactive and dynamic than ever before, and users more distributed, mobile and demanding.
"Decades-old branch architectures are no match for today's reality, and everything has to be done in support of the applications. It's all about 'focusing on the needs, and automating the means.'"
That's where Nuage comes in, Ferland said: "Introducing Nuage's vSwitch removes the need to configure the physical equipment – we then only use it for transport. Network overlays are dynamically created using VxLan 'tunnels' according to the network policies of each workload."
The company said its solution gives enterprises more freedom in their choice of open infrastructure technologies. Previously, it said, SDN deployments had to compromise on openness in order to provide full operational visibility. But with recent virtualization advancements in private and hybrid cloud scenarios and the evolution of networks – resulting in more open underlay choices – Nuage Networks said a new solution was possible to address visibility constraints that interfere with isolating network faults and fixing them quickly.