NTT Global Data Centers is looking to more than double its data center capacity in India over the next few years, and it could funnel as much as $1.5 billion to achieve this growth.
In September 2019, DCD reported that telecoms giant NTT Com was launching a data center division by bringing together properties including RagingWire in the US and NetMagic. Last week, NTT Global Data Centers formally launched under the leadership of executive VP Ryuichi Matsuo, with four regions: Americas, APAC, EMEA, and India.
India will be NTT's fastest-growing data center market, the company has said, with its investment there forming part of a global plan to invest a total of $7 billion in the data center business.
Strategy in India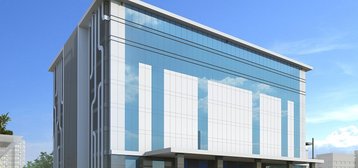 The company aims to more than double its data center capacity in India over the next three years, NTT's chief executive for India Sharad Sanghi told Press Trust of India, with overall capacity going up by 1.5 million sq ft (140,000 sq m). The company currently has 1.2 million sq ft across the cities of Mumbai, Noida, Chennai, and Bengaluru.
NTT is also looking at greenfield deployments and adding to its land bank for future data centers, but is not averse to acquiring facilities from existing players should the opportunity arise.
"India is the fastest-growing region for NTT and a substantial amount of the US$7 billion commitment will be invested here," said Sanghi. Hinting that the giant war chest will be shared proportionately across the four regions, this could works out at more than US$1.5 billion being channeled into India.
But while revenues are expected to grow in India, the company expects margins to narrow in the short term as overall capacity increases and so does competition.
However, Sanghi expressed confidence in the business, noting that its data center customers often sign long-term contracts. The biggest demand is coming from global hyperscalers such as cloud service providers, and enterprises that are moving to the cloud, he said