Japanese telecoms firm NTT Communications (NTT) has opened FDC2, the second phase of its Hong Kong Financial Data Center. Located in Tseung Kwan O, the combined project consists of two data center towers and one command and control tower containing over 70,000 sq m of space, and costing a total of HK$4 billion ($516m).
FDC1 opened in May 2013, offering 3,000 racks of space, while the newly launched FDC2 will bump this up to 7,000 racks. The ample space aside, racks located within FDC2 can also be up to 54U, which is substantially taller than the industry standard of 42U to 45U.
A variety of technologies run inside the data center to keep energy efficiency up. For example, a cooling battery billed as the largest thermal energy storage system in Hong Kong offers 42 minutes of uninterrupted cooling. Lighting is also sensor-controlled and powered by DC power over Ethernet cabling (POE) to reduce energy cost and increase user safety. With a projected annualized PUE of less than 1.5 at full load, FDC2 is expected to improve energy efficiency by 15 percent.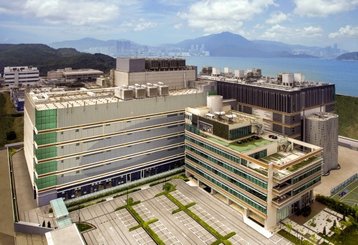 Land is scarce in Hong Kong, which makes it hard for data center players to find good real estate. In 2011, the government introduced a slew of measures that include land at the Tseung Kwan O industrial park set aside for new data centers.
Still, there were complaints that the amount of released land was very limited. Google initially acquired a 2.7-hectare plot at Tseung Kwan O in 2011, but later scrapped its plans, citing cost and the difficulty of acquiring "spacious land" there. The search engine giant doubled down on its Singapore presence instead, announcing a second data center adjacent to its first less than two years after the launch of the first.
"Data centers are part of the key infrastructure for a knowledge-based economy, playing a pivotal role in the development of our information and communications technology sector," said Nicholas Yang, the Secretary for Innovation and Technology, HKSAR Government in a statement.
"Although land is a scarce resource in Hong Kong, we have made every effort in the past few years to make available suitable land for data center development, from greenfield sites to conversion of existing industrial buildings," explained Yang. "The Government will continue to explore different means to make available more suitable land for data center use in Hong Kong such as through development of caverns."
NTT has pursued an aggressive growth strategy around the world over the last year, including in the Southeast Asia region. In October, NTT launched a data center in Mumbai, India, and another one in Bangkok, Thailand, also announced this month. Earlier in the year, NTT expanded its Indonesia footprint with the acquisition of Cyber CSF.
The company's CEO Tetsuya Shoji discussed these plans with DCD in July, following European expansion in which NTT bought Germany's e-shelter. In the US NTT has a deal where HPE (Hewlett Packard Enterprise) will sell its cloud services, following an earlier deal with Dell.