NTT MSC, a wholly-owned subsidiary of NTT Communications, this week announced the launch of a substantial expansion to its Cyberjaya 4 data center in Selangor, Malaysia.
Located in Cyberjaya, a technology hub established as part of the country's Multimedia Super Corridor (MSC) initiative, the extension increases the facility's total capacity by 40 percent, with 140,000 square feet of space added.
Growing data centers for a growing economy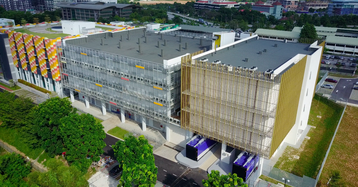 The extension will offer business solutions including cloud deployments and traditional colocation, with an emphasis on business continuity, NTT said.
The data center campus features an integrated operations center and a "Proof of Concept and Innovation Lab," the latter being equipped with the latest converged infrastructure, aiming to accelerate the commercialization of innovative technologies.
The launch was officiated by Datuk Yasmin Mahmood, the chief executive officer of Malaysia Digital Economy Corporation (MDEC), an influential developmental agency tasked with boosting the country's digital economy.
"NTT MSC is one of our earliest MSC Malaysia status companies and has been operating for more than 20 years here. NTT MSC's expansion and growth is a testimony to Malaysia's success in becoming the regional Data Center hub in ASEAN," Datuk Yasmin said, calling the expansion "timely".
She pointed to the rapid growth of the Malaysian cloud and data center industry for the past five years: "Reports by the Malaysia Internet Exchange (MyIX) show that Internet traffic in the country is still on a rapid rise. In August 2016, Malaysia recorded the highest Internet traffic in history, with a CAGR of close to 57 percent since 2012."
According to NTT, the digital economy in Malaysia as a share of the GDP is projected to grow from 17 percent in 2015 to 20 percent in 2020, and is on track to help it reach the target of RM324.9 billion by 2020 - as outlined in the 11th Malaysia Plan.