NTT Communications, a subsidiary of the Japanese telecommunications giant NTT, is building a Linux container platform based on open source technology from American start-up Rancher Labs.
A private container service will be implemented in NTT Com's Enterprise Cloud in October, and a public container service will be implemented as part of WebARENA cloud – aimed at the internal Japanese market - by December 2017.
This collaboration marks the first time Rancher Labs has issued a Managed Service Provider license to a cloud provider in Japan.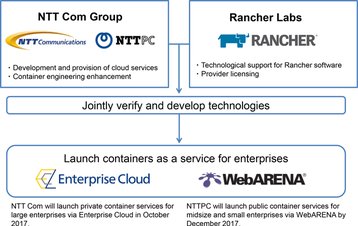 Yee-haw
NTT Com is a subsidiary of the Nippon Telegraph and Telephone Corporation (NTT) - the largest telecommunications company in the world by revenue.
It owns a network of more than 140 data centers worldwide, serving 196 countries and regions, and runs a healthy cloud business.
Rancher Labs is a software company headquartered in Cupertino, California. It was established in 2014 to develop Linux-based container management tools, and has since emerged as one of the leaders in this field.
NTT Coms and Rancher will collaborate on container services, to offer both a private cloud platform aimed at large corporate customers, and a public cloud platform aimed at smaller organizations.
The private cloud platform will become part of the Enterprise Cloud service, enabling customers to deploy multiple Docker clusters, scale containers and hosts, and manage them using a web interface. Rancher environments created in Enterprise Cloud's virtual server will be fully compatible with a variety of other Enterprise Cloud products, including databases.