The Norwegian government has published a strategy for sustainable data centers, including moves to encourage more data center investment from outside Norway - and a requirement that facilities investigate reuse of their waste heat.
The document, entitled Norwegian data centers - sustainable, digital power centers [Norske datasenter - berekraftige, digitale kraftsenter] was launched by Linda Hofstad Helleland, minister of districts and digitization, at a visit to Aquila Capital. Norway had $300 million (NOK2.7bn) invested in new data centers during 2019 and 2020.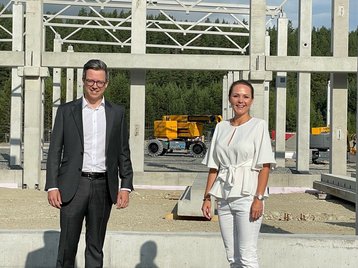 Norway wants more data centers
"Strong growth is expected in the data-driven economy, and here Norway can contribute with sustainable solutions in Norwegian data centers - to welfare services, the aquaculture industry, and much more," said Helleland in the foreword to the document. "I mean we have to work to get more data centers to Norway."
Norway has a strong renewables industry with a grid sustained by hydropower - although it does still export oil. Helleland predicts that the use of AI and big data could double Norway's GDP growth by 2030 - and says it needs more data centers to enable this.
Data centers only contribute 2,400 jobs right now (a tiny percentage of the country's 5.3 million population) but Helleland says this will grow. to far more in future.
"We have a fantastic starting point in Norway, with good and secure access to renewable energy, solid digital infrastructure, high competence and stable framework conditions. But the competition is global and we must always get better. It is also important to work actively for good local roots. That is why we are now updating the national data center strategy - just three years after we launched the first one. Developments are rapid in the digital economy. I want to work for the Norwegian data center industry to create new jobs in a future-oriented and not least sustainable industry."
The main sustainability point is to follow through on Energy Minister Tina Bru's promise to require data centers to investigate offering their waste heat to others. Other points in the document include the production of English language marketing materials to get more foreign investment into the Norwegian data center sector.