Northvolt, a battery manufacturer founded by former Tesla executive Peter Carlsson, plans to build a 32 GWh lithium-ion battery factory in Sweden.
The company expects to reach this level of production by 2023, and aims to produce 8 GWh worth of battery capacity per year in 2020. However, with the cost of the project estimated at €4 billion ($4.73 bn), and Northvolt thought to have raised just a fraction of that, the company still has a long way to go.
With the facility - officially called Northvolt 1, but colloquially known as 'Europe's Gigafactory' - Northvolt hopes to dramatically cut the cost of lithium-ion battery production, used in everything from electric cars to consumer electronics, to data center UPS systems. It also aspires to build the 'world's greenest battery,' with the lowest possible carbon footprint and the most effective recycling system.
Factories of the future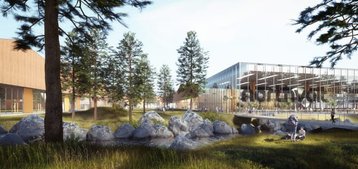 "Europe is rapidly moving towards electrification. Sweden has a unique position to establish large-scale battery production to support this transition with its clean and affordable energy, proximity to raw materials, and a strong industrial tradition deep in its DNA," Carlsson, Northvolt's CEO, and former chief procurement officer and head of supply chain at Tesla, said.
The factory itself will be built in the Swedish municipality of Skellefteå, while an R&D facility will be built in Västerås. Northvolt expects to employ 2,000-2,500 staff at the factory, and 300-400 at the R&D operations center.
"This is the ideal operational set up for Northvolt," Carlsson said. "It meets the fundamental requirements for a large-scale battery factory, such as access to energy, infrastructure and skilled labor. It will also enable us to leverage a world-class electrification cluster to develop green and cost-efficient batteries together with our customers and partners."
Node Pole, the data center development owned by local energy companies Vattenfall and Skellefteå Kraft, were quick to welcome the news. Patrik Öhlund, CEO of Node Pole, said: "This case proves Sweden is the place to be when it comes to next generation industry with green, scalable and flexible production."
But Northvolt still faces an uphill struggle. It is thought to have raised €100 million ($118 million) in August, on top of a previous round that brought in $14 million, but that pales in comparison to the €4bn it needs to reach full scale of production. In its next funding round, it hopes to raise €1.2-1.4bn ($1.42-1.66bn).
Likely key to raising more funds will be a demonstration line in Västerås, which is scheduled to be completed in 2019.
Should the factory, and other projects like Tesla's Gigafactory, become fully operational, it is likely to considerably reduce the cost of lithium-ion batteries. But despite its clear benefits, data center operators remain wary of the technology, irrespective of the price.
"People see explosions everywhere, from hoverboards, to Boeing, to cellphones," Schneider Electric's Simon Zhang told DCD earlier this year. "For this reason people are cautious, especially for mission critical facility operators and managers. They're a very cautious, very conservative group of people."
Peter Stevenson, senior technical coordinator at GS Yuasa Battery, concurred: "If you lose a data center, the costs are so much more than anything you're going to save on fitting a different battery, so I can see why the reticence is there."