The Future of Mining, a company owned by a group of investors from Florida, is planning to build a 35MW cryptocurrency mine in the north of Sweden – a region promoted to data center developers as the Node Pole.
The first phase of the project will be consuming 5MW of power, and is expected to commence operations next month.
The company also envisions a business accelerator that would take advantage of the talent in the nearby Boden-Älvsbyn HPC cluster.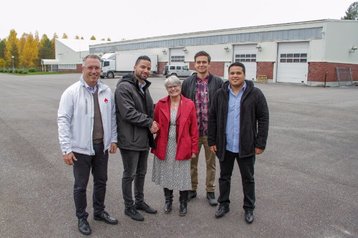 Magic money tree
The Future of Mining is jointly owned by blockchain industry companies NGPS and NIDC, and already runs a cryptocurrency operation in the US. The company has been looking for a location with access to cheaper power - and Sweden currently enjoys the cheapest data center electricity in Europe.
Cryptocurrency mining requires simplified data centers, housing specialized servers full of ASIC chips. These facilities place more emphasis on power supply but have few cooling requirements and are less focused on reliability.
The Future of Mining is setting up its data center in an existing 1,500 square meter building previously owned by Sweden's National Telecoms Administration. The site is adjacent to an 80MW substation run by Vattenfall, the largest power utility company in the Nordics.
The Future of Mining plans to rapidly scale its operations to reach 35MW capacity in the next 18 months.
"We are looking to scale fast in terms of both size and technology development. This strategic choice allows us easy access to everything from energy to innovative partners and European downstream customers. This allows us to keep to our ambitious growth trajectory without hassle and bottlenecks," said CEO of the company, Gianfranco Castillo.
The development is part of the Node Pole, established in 2011 as an infrastructure project focused on the municipalities of Luleå, Boden and Piteå near the Arctic Circle, where Facebook opened its first European data center in 2013.
The Node Pole region benefits from cool climate, reliable power grid designed to be used by heavy industries, and access to renewable energy drawn from the nearby Luleå river.
At the end of 2016, the Node Pole project was acquired by Swedish power companies Vattenfall and Skellefteå Kraft, which have since expanded its boundaries.
The Node Pole used to host another cryptocurrency venture, K'n'C Miner, but the company fell on hard times. It declared bankruptcy in May 2016, and was sold to a Swedish firm called GoGreenLight shortly thereafter. GoGreenLight continues its mining operations, but part of the property has been sold to Canaan Creative – yet another cryptocurrency venture, hailing from China.