EcoDataCenter, the Swedish company that aspires to build the world's first 'climate positive' data center, has been acquired by Nordic real estate developer Areim.
Areim III real estate fund has obtained a majority stake in the company by purchasing shares worth SEK 200 million (approx. $22m).
"The collaboration with EcoDataCenter means we are entering a rapidly expanding industry with substantial future potential, and our shared expertise will enable us to create a new investment segment in the Swedish real estate market," Leif Andersson, the founder of Areim, said in a statement.
EcoDataCenter's first facility, located in Falun, central Sweden, is a few months away from completion; it will be powered by renewable energy and export waste heat, feeding it into the local district heating network.
Altered carbon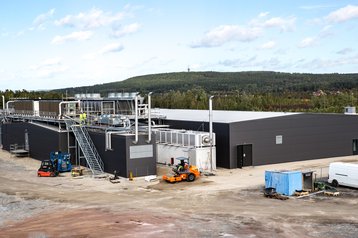 EcoDataCenter was established as a joint venture between local energy company Falu Energi & Vatten and data center operator EcoDC AB, to build energy efficient data centers that are designed to produce a 'negative carbon dioxide footprint.'
Its first project is located in Falun, a quiet Swedish town that used to be famous for its copper mines. The original campus blueprint envisaged three buildings and 18MW of power capacity, with the first 2MW of capacity coming into operation in the next few months.
The facility promises impressive PUE of 1.15 and Tier IV reliability, along with LEED Platinum certification. It features a custom cooling system, and the roof will be planted with flowers to help cool the servers underneath.
The future direction of EcoDataCenter will be decided by Areim – a Nordic real estate developer that manages capital on behalf of both Swedish and global institutional investors.
"Together with Areim, EcoDataCenter can create a distinct environmentally profiled and qualitative Nordic alternative for major international players interested in establishing operations in the Nordic countries," said Lars Thunell, chairman of EcoDataCenter's board of directors.
"This also provides us with the financial muscle to acquire existing data centers from other large companies to consolidate the Nordic market and expand our concept with carbon dioxide positive data centers."
Earlier this year, EcoDataCenters CEO Lars Schedin told DCD that the company was already developing a second site, based on the same design principles but with a total power capacity of around 6-7MW, and could start construction as soon as spring 2019.