British data center operator Next Generation Data (NGD) has commenced build-out of another floor at its massive data center campus near Cardiff in Wales.
The company will add 250,000 square feet of space to the facility, after securing more than £125 million in new business.
"NGD's industry leading 16 week build out timescales and the financial resources of our funding partner Infravia Capital Partners is enabling us to respond extremely quickly to global market opportunities," said Simon Taylor, chairman of NGD.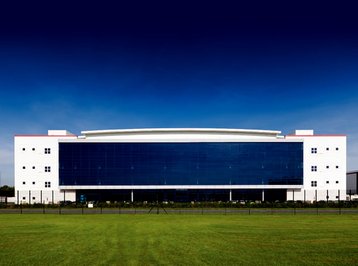 Brownfield
NGD was established in 2007 to build a 750,000 square feet data center campus near Newport, Wales, on the site of a former LG semiconductor plant. Today, the campus hosts 32MW worth of equipment, making this one of Europe's largest data center sites.
The buildings look the part, having been shortlisted for DCD's Most Beautiful Data Center Award in 2017.
NGD has been expanding its data centers on a constant basis, having added three new custom data halls for an un-named public cloud software provider just before Christmas.
According to Phil Smith, the company's construction director, the campus has already reached 30 percent occupancy with 31 data halls, and there's plenty of space and power left for expansion. The latest space will be located on the top floor of the building, consisting of both private and shared halls.
"NGD employs over 50 personnel and with this latest major top floor expansion project is providing a further boost to the local economy," Taylor said.
"We have over 500 construction workers on site plus around 120 further contractors providing IT and facilities management services. Our strong forward order book indicates that NGD will once again be a major source of local employment this year."
NGD was acquired by French investment company InfraVia Capital Partners in 2016, in a deal worth a reported £100 million ($130 million).