Fonterra plans to shift most of its workloads to Microsoft Azure, when the cloud company's New Zealand data center opens.
The nation's largest company, dairy co-operative Fonterra exports products to over 140 countries - responsible for approximately 30 percent of the world's dairy exports. As of 2017, the company was primarily hosted by local telco Datacom.
The anchor tenant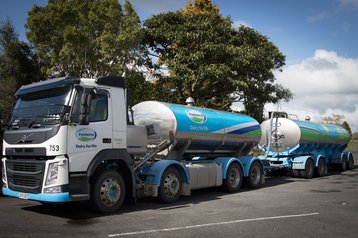 Fonterra says that it expects to increase the amount of data it captures, now that it is going to be on the cloud, and will trial using IoT sensors on farm milk vats, smart machines in its factories, and help optimize its operations.
The company added that it is currently trialing machine learning to detect improperly sealed or faulty bags of powdered milk in its factories.
"The new platform aims to bring together all parts of Fonterra and build a culture around data," the company's CIO Piers Shore said. "By capturing and integrating data across the organization, this will create a foundation for actionable insight and enable Fonterra to deepen our relationships with farmers and customers, optimize our supply chain and manufacturing operations and deliver better products and services."
Vanessa Sorenson, Microsoft New Zealand MD, added: "Watch this space. This is the first customer signing of many. When we disclosed the launch of the New Zealand data center region, we knew there would be an appetite for the scope and solutions that it would provide to unlock innovation across so many industries.
"And it's such a privilege to have Fonterra as our first major anchor tenant customer."
As part of a wider five-year partnership, Microsoft Surface devices will also be provided to key Fonterra staff across Australia and New Zealand.