Daresbury Laboratory has been granted approval to build a new supercomputing center on its campus in Daresbury, UK.
First reported by Insider Media, Halton Borough Council's planning committee last week approved the plans for the new building in Halton, Cheshire.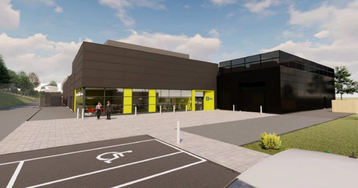 The proposed plot of undeveloped land undeveloped sits on the Daresbury Science and Innovation Campus (DSIC) and would see a single-story supercomputing center providing 3,070 sqm (33,000 sq ft) of floor space built.
"The proposed development is expected to replace an existing supercomputing center at DSIC that is no longer fit for modern-day purposes," according to submitted documents. "[The space] will primarily be used as a data hall with supporting, offices, loading areas, ancillary facilities, covered plant spaces, and external plant."
"The proposed development would enable DSIC to remain a leading innovator in large scale computing in the UK," DSIC added.
Daresbury Laboratory was opened in 1962 as the Daresbury Nuclear Physics Laboratory. It carries out research in fields such as accelerator science, bio-medicine, physics, chemistry, materials, engineering, and computational science.
As well as being home to a number of electron accelerators, the site is home to the Hartree HPC Centre; the center houses the 4 petaflops Scafell Pike Bull Sequana X1000 and an Atos Quantum Learning Machine. It formerly hosted 1.4teraflops IBM Blue Gene/Q Blue Joule supercomputer, before it was moved to the DiRAC facility at the Institute for Computational Cosmology at Durham University in 2016.