Puppet may have shrunk its name from Puppet Labs, but the company appears to be going through a growth period with a software upgrade, links to rising star products and staff expansion.
Puppet's application delivery and operation automation platform has been upgraded to Puppet Enterprise 2016.1 and, as part of an initiative it calls Project Blueshift, it is embracing a raft of products and development communities that are currently rising in popularity.
Docker Engine and its tools can now be installed and configured using Puppet and the Universal Control Plane can also be managed. Google's Kubernetes container management system and its Pods, Replication Controllers, Services can be supervised. The Puppet community has also developed modules for Mesosphere DCOS, a platform that views the entire data center as a single computer.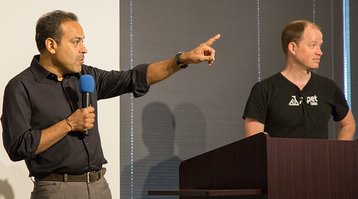 Look at 'em go
The community has also paid attention to Hashicorp's open source Consul tool for discovering services on networks. Using the combination of Consul and Puppet, companies can further automate their data center services. The group has also ensured interoperability with the CoreOS Linux distribution and associated projects such as Tectonic.
Within Puppet Enterprise, direct change orchestration has been added so that deployments of applications and infrastructure can be rolled out in an orderly fashion. The software can also schedule changes in a specific time period and push these out itself or through other products, such as HipChat, Git and Jenkins.
Users can view the results of changes in real time, and deployments of a set of changes can now target a small section of the infrastructure and be throttled up or down. This enables managers to handle change issues by targeting a handful of servers and stopping the deployment at any point to look for and address any issues. Once these teething troubles are eliminated, the changes can be rolled out across thousands of servers without threatening the data center operations.
Puppet introduced interactive node graphs in last year's release and has now added to this with the interactive dependency graph. This allows dependencies to be visualised across any managed resources, including all 'ancestors' and 'descendants'. The company said that understanding these relationships makes it easier to troubleshoot problems at the code level, optimise the infrastructure, understand the impact of change, and allow teams to collaborate through code-sharing.
Separately, Puppet Enterprise App for Splunk has been announced to give enterprises insights to the changes in their infrastructure. Proactive monitoring of infrastructure and applications is a key DevOps practice, enabling continuous improvement. The app enables Puppet users to diagnose issues and solve problems faster using Splunk when making critical changes.
To mark its growth, Puppet has moved into larger offices and has appointed Sanjay Mirchandani as its first president. He was previously with VMware, where he was the corporate senior vice president and general manager of Asia Pacific and Japan.
Mirchandani will also take the role of chief operating officer to direct all of Puppet's go-to-market operations and execution, including marketing, pre-sales engineering, sales, partners, customer support and services.