New Jersey Fiber Exchange (NJFX) has completed the construction of the third and final phase of its data center campus located on the shores of the Atlantic.
The Tier III facility benefits from direct access to major subsea cables linking the US to South America, Europe and the Caribbean.
To mark the occasion, NJFX has powered up the first customer cage that uses the company's 432 tie cable to provide connectivity to its Cable Landing Station (CLS) Meet Me Room.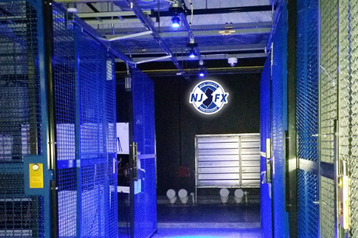 Escape from New York
NJFX was established in 2015 to run 'Tier 3 by the Subsea', a specialized colocation and interconnection service that take advantage of the nearby cable landing stations for transatlantic fiber routes operated by Tata Communications.
The campus in Manasquan is connected to a number of cable systems, including TGN-Atlantic, TAT-14, Apollo, Gemini and GlobeNet.
Phase III of the project involved construction of a 64,800-square-foot colocation facility, and took 15 months from the initial design stage.
The campus as a whole now offers capacity for 1,000 server cabinets, with power densities of up to 20kW. All critical electrical and mechanical systems are configured with N+1 redundancy and the facilities boast a design PUE of 1.35, facilitated by an evaporative rooftop cooling system.
Considering its location, the data center was designed to withstand level 5 hurricanes.
NJFX says it has seven backhaul providers preparing to serve private fiber backhaul to cities across the US, all while bypassing New York City and other legacy infrastructure hotspots.
"2016 was an outstanding year for NJFX," said Gil Santaliz, founder and Chief Executive Officer of NJFX. "We launched the facility in September and since then have developed key strategic partnerships with a multitude of networks and successfully completed our data center commissioning. As we head into 2017, we look forward to further developing our campus' ecosystem, one of the most robust and diverse in the market."