New Jersey Fiber Exchange (NJFX) has added a 64,800 square foot colocation facility to its footprint, on a campus that benefits from direct access to major subsea cables linking the US to South America, Europe and the Caribbean.
The second phase of the 'Tier 3 by the subsea' project in Manasquan has delivered a two story building that can support up to 10MW of IT load. It includes a carrier-neutral meet-me-room and was designed to withstand level 5 hurricanes.
"NJFX is doing something that no company has ever done before," said Gil Santaliz, founder and CEO of NJFX. "The unique location of our campus enables unprecedented access to a number of the most sought after subsea and terrestrial assets transporting traffic nationally, as well as internationally. NJFX ensures our customers receive the flexible, reliable and secure connectivity they require to support their growing business needs."
Jersey shore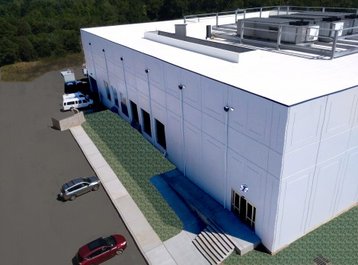 NJFX was established to run specialized colocation and interconnection services that take advantage of the nearby cable landing stations for transatlantic routes operated by Tata Communications. The campus is connected to a number of cable systems, including TGN-Atlantic, TAT-14, Apollo, Gemini and GlobeNet.
The latest facility on the campus offers capacity for over 1,000 cabinets, with power densities of up to 20kW per cabinet. It features an evaporative rooftop cooling system and promises annualized PUE of 1.35.
NJFX previously said it would focus its efforts on retail cabinets for carriers, OTT's and enterprise cages for up to 50 percent of its primary business.
We should note that 'Tier 3' in 'Tier 3 by the subsea' project describes the general reliability of the data center according to the ANSI/TIA-942 standard, not to be confused with Tier III as certified by the Uptime Institute.
NJFX says locating servers close to cable landing points eliminates the need for backhaul and puts control back in the hands of the carrier-neutral operators, carriers, enterprises, federal and state government entities and service providers.
"Our mission is to develop one of the most robust and diverse ecosystems in the market within the NJFX facility," said Doug Corbett, vice president of Sales and Customer Relations. "The facility's location and proximity to key subsea cable systems, with direct access to Europe and South America as well as highly sought after terrestrial routes fosters domestic and international strategic partnerships for interconnection."