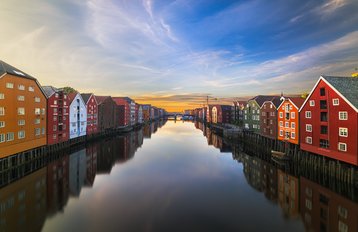 Norway-based Green Edge Compute AS is a new company focused on creating sustainable urban data centers with a focus on smart cities, and the facility in Trondheim will be its first. Founders Svein Harald Olavesen and Patrik Hagelin were both previously at MIRIS, a green real estate development company from which Green Edge was seemingly spun out.
The design for recycling the heat from the data center into the district system was developed through Statkraft's R&D activity.
"This DC in Trondheim will be our first, and soon we will have such sustainable DCs in all major cities where we can connect to a district heating system," Green Edge CEO Olavesen said on LinkedIn.
"Sustainability is about the 3 Rs. Reduce, Recycle and Reuse. Thanks to Statkraft for the collaboration on the heat side of our concept!"
Last month a proposal was put forward in the Norwegian Government that would require data centers to plug into local district heating schemes. Minister of Energy Tina Bru wants all companies that build or upgrade large energy-consuming plants to find out whether their waste heat can be used, and interested parties have till 14 April to respond to the consultation.