NTT Communications' subsidiary Netmagic Solutions has launched two data centers in India - its sixth facilty in Mumbai and its third in Bengaluru.
Announced by the company earlier this year, the sites total 12,600 square meters (135,625 sq ft) of white space, and can house up to 4,250 servers.
Mumbangalore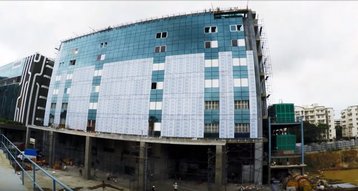 The latest data center in Mumbai is located next to Netmagic's fifth facility in the capital, offering 7,900 square meters (85,034 sq ft) of technical space, enough to accomodate 2,750 servers. The company says it will mainly support firms offering financial, media and Internet services.
DC3 in Bangalore is located in the eastern suburb of Whitefield. It can fit 1,500 racks in its 5,700 square meters (61,350 sq ft) of white space, to be used by IT service providers and BPO contractors.
Netmagic said it will offer a full range of services from the new data centers, including managed colocation, hosting, multi-cloud connectivity, infrastructure monitoring and management, managed security and disaster recovery.
Netmagic was established in 1998 as the first company to offer cloud services, managed security, disaster recovery and software-defined storage in India, and was acquired by NTT in 2012. As well as its data centers in Mumbai and Bangalore, the company has infrastructure in Chennai and Nodia. In the past twenty years, the country has become the third largest data center services market in the Asia Pacific region.