Enterprise storage giant NetApp has considerably raised its webscale game. The company has agreed to buy flash storage specialist SolidFire for $870 million in cash and integrate its products into NetApp's software-defined Data Fabric architecture.
SolidFire offers a complete range of products including entry-level hardware, but its focus is on arrays for large data center deployments – current customers include service providers Colt, Sungard and Datapipe.
"This acquisition will benefit current and future customers looking to gain the benefits of webscale cloud providers for their own data centers," said George Kurian, CEO of NetApp.
"SolidFire combines the performance and economics of all-flash storage with a webscale architecture that radically simplifies data center operations and enables rapid deployments of new applications."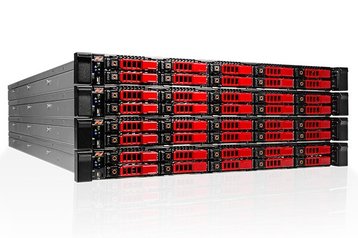 New horizons
SolidFire was founded in 2010 with headquarters in Boulder, Colorado. It specializes in scale-out flash storage designed for the cloud, made from Multi-Level Cell (MLC) memory – the same type used in consumer products such as smartphones, albeit with a longer lifespan thanks to clever storage controllers.
In five years since its inception SolidFire received around $150 million in venture capital, including $82 million in its latest funding round in October 2014.
NetApp announced its first all-flash storage array in 2013, but its products are mainly aimed at the enterprise. The company says that following the acquisition, it will be able to cater to all three all-flash array market segments: traditional enterprise users with All-Flash FAS range, database administrators with high performance EF Series and now large-scale infrastructure builders with SolidFire's SF Series nodes.
SolidFire CEO Dave Wright will continue lead the SolidFire product line within NetApp. "Both SolidFire and NetApp have deep technical, customer-centric cultures, which are focused on delivering innovations that give customers a competitive advantage," he said. "We look forward to enhancing NetApp's position within the all-flash array market while helping NetApp and SolidFire customers and partners succeed."
The transaction is expected to close in the fourth quarter of NetApp's fiscal 2016.