A partnership between NEC and Internet Initiative Japan (IIJ) has been recognized for successfully driving down the PUE of containerized data centers.
The partners have received a Critical Environment Future Thinking Award from DatacenterDynamics at a recent show in Singapore.
IIJ's co-IZmo/I range offers pre-fabricated data center modules that support a higher-than-average ambient temperature of 40℃ and can work in any climate. And a higher ambient temperature means less energy spent on cooling, resulting in lower overall power bills.
Five degrees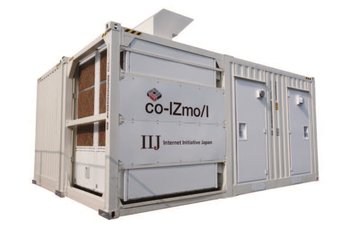 The award recognizes the unique design of data center modules, including an indirect outside-air cooling system that doesn't use water – first of its kind to be built in Japan.
In order to push the ambient temperature higher, IIJ relied on specialized servers provided by NEC. The company says it had to carefully select components that enable optimization of airflow so it could raise the temperature inside the containers by 5℃ above recommended limit.
Among the measures introduced by NEC were larger heatsinks and alternative backup battery placement. Since the batteries generate relatively high heat, they were moved to the very front of the rack where the cool air comes in.
Overall cooling capacity of the modules stands at 10KW per rack, enabling comfortable operation of high density servers. Using the latest kit from NEC, a single co-IZmo/I rack can host 332 servers, each equipped with an 8-core processor, and still remain within safe operating parameters.
Besides Japan, co-IZmo/I modules are currently in operation in Vladivostok, in the north of Russia, where the temperature can go below -30 ℃. At the same time, feasibility studies are being done in Laos, where the climate is hot and humid and temperatures can reach 40℃.
According to IIJ, the average annual PUE for its container-based Matsue Data Center Park in Japan stands at 1.17. It is higher in Laos, but the results are very impressive for a tropical climate: 1.35 with traditional servers and 1.2x with NEC's high ambient temperature hardware.