Nebulon, a company whose "smartInfrastructure" product turns enterprise hardware into internal clouds, has launched a smaller Edge package consisting of two nodes.
The 2-node smartEdge package is intended as an entry point for testing the whole Nebulon proposition or else a way to put together small projects which might grow, according to the company.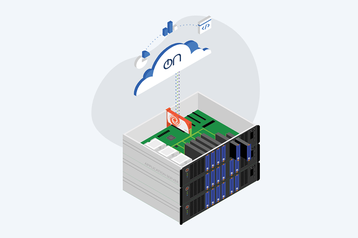 Edging into reality
Nebulon was formed in 2018, and launched its first products in 2020, based around adding cloud-managed hardware to make on-prem systems more composable. Its storage/service processing units (SPUs) attach to servers and handle infrastructure management for the hardware, being themselves managed through the cloud. The idea is to offer simpler infrastructure as a service (IaaS) to enterprise users, based on their own on-premises hardware.
The idea overlaps somewhat with hyper-converged infrastructure (HCI) and smartNIC/DPU systems, which also use intelligent hardware, and also with services like VMware which try to do the whole thing in software. However, HCI approaches haven't found their way into Edge deployments yet, as most Edge boxes only have one or two servers, and most HCI solutions need a minimum of three servers and network switch, according to Nebulon.
"There are HCI vendors that advertise a two-node solution, but they require the customer to purchase a network switch, set up a quorum witness (QW) on another customer-provided server or instance in the cloud, then maintain it on an ongoing basis," says the Nebulon release. "And because HCI overheads consume 25 percent of server resources for data services, customers are often forced to purchase more servers and software licenses than necessary, a massive cost for large edge deployments."
Nebulon says its smartEdge needs no network switch, and no third server quorum witness, using a cloud service called Nebulon On instead: "By providing the quorum witness as a service in Nebulon ON, administrative tasks related to hosting and maintaining the quorum witness are eliminated."
Nebulon founder Siamak Nazari was originally a principal engineer at 3Par, the virtualized storage company which Hewlett-Packard bought in 2010. He left HP in 2018 to start Nebulon.  
Despite launching its products in 2020, Nebulon is still seen as something of a novelty. It has made a small number of customer announcements - South African service provider SYSDBA has deployed HPE ProLiant DL380 Gen10 servers with Nebulon smartInfrastructure to host customer environments and internal operations, while UK service providers DCI and Inca are both using it to deliver cloud based IaaS services.
Speaking of the Edge product, CEO Nazari said: "Two-node cluster support is a requisite piece in Nebulon's evolution toward developing the ultimate cloud-managed, on-premises infrastructure solution, ideal for both Edge deployments and also data center projects, whether they be small or large."