A number of NATO allies are considering a more 'muscular' response to state-sponsored hackers, officials said.
Included in the potential set of cyber warfare principles, being drawn up by the United States, Britain, Germany, Norway, Spain, Denmark and the Netherlands, is the option to use cyber attacks to bring down enemy networks. The member nations are aiming for an agreement in early 2019.
NATO 2.0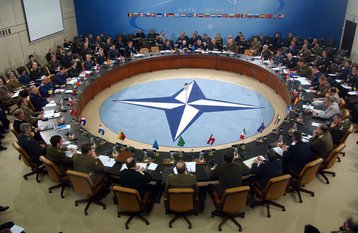 "There's a change in the [NATO] mindset to accept that computers, just like aircraft and ships, have an offensive capability," US Navy Commander Michael Widmann said at the NATO Cooperative Cyber Defence Centre of Excellence, Reuters reports.
"I need to do a certain mission and I have an air asset, I also have a cyber asset. What fits best for the me to get the effect I want?"
America's NSA and CIA, with assistance from Israel's Unit 8200, are thought to have been responsible for Stuxnet - the first cyber attack known to have damaged physical infrastructure. Either nation is yet to confirm its involvement in the destruction of Iranian centrifuges at the Natanz nuclear facility, but revelations about the weapon in 2010 are believed to have kicked off an arms race for advanced cyber capabilities worldwide.
Security consultant Ralph Langner, who analyzed Stuxnet in detail, wrote in Foreign Policy in 2013: "Operation Olympic Games started as an experiment with an unpredictable outcome. Along the road, one result became clear: Digital weapons work."
But NATO policy has been slow to react to this new type of warfare, officially recognizing cyber as a 'domain of warfare' - alongside land, air and sea - in 2014.
The alliance is yet to detail how to respond to provocations in that domain. In the meantime, threats have only increased.
Senior Baltic and British security officials told Reuters that they have intelligence showing persistent Russian cyber attacks attempting to bring down European energy and telecommunications networks, accompanied by online disinformation campaigns.
"They (Russia) are seeking to attack the cohesion of NATO," a senior British security official said. "It looks quite strategic."
Russia denies such allegations.
Meanwhile China has been accused of stealing technology and intellectual property from both private companies and governments, while North Korea is thought to have been behind an attack on Sony Pictures, in retaliation for releasing controversial film The Interview. After signing an agreement with the Obama administration to curb cyber espionage attacks, China is thought to have downsized its operations - although not eliminated them completely.
For NATO member Estonia, Russia remains its largest concern. In 2007, amid a dispute between Russia and Estonia over a Soviet-era grave marker and war graves, Estonian banks, ministries, newspapers, broadcasters and parliament websites were brought down by a massive distributed denial of service type attack, while the Estonian Reform Party website was defaced. Russia said these allegations were "unfounded."
Now, Estonia plans to open its own cyber command center, a focal point for combatting cyber espionage and attacks against critical infrastructure.
"You cannot only defend in cyberspace," Erki Kodar, Estonia's undersecretary for legal and administrative affairs and head of cyber policy at the defense ministry, said.
This week also saw NATO's largest annual cyber defense exercise, Cyber Coalition. It was hosted in Estonia.