NASA has awarded a $2.9 billion IT services contract to American defense and technology specialist Leidos.
Under the contract dubbed NEST (NASA End-user Services & Technologies), Leidos will provide IT services that support the agency's core business, scientific, research, and computational activities. The company will manage most of NASA's personal computing hardware and ensure smooth operation of agency-standard software, its mobile services and even its help desk.
A flexible contract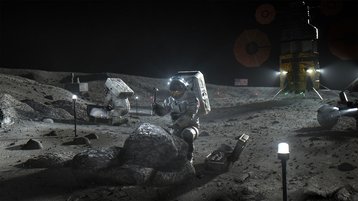 In procurement documents, NASA describes the contract as "transformational."
"NASA desires to move from a traditional PC (thick client) to a model that is more flexible in addressing customer requirements," the original tender says.
The contract is certainly flexible - there are several built-in options enabling NASA to shoot off if the deal with Leidos doesn't suit the agency's needs. The delivery will start with a two-year, three-month base period, followed by a two-year option, another one-year option, and then five one-year award term options.
If all options are exercised, the contract will expire on May 31, 2029.
NEST follows in the footsteps of an end-user IT contract with HP Enterprise Services, which went through a turbulent period in 2016, after NASA CIO Renee Wynn refused to sign off on the deal because the space agency did not have enough data to determine how risky it was. A week later, HPE resolved the discrepancies that were causing the alarm and the contract was agreed.
Founded in 1969, Leidos has grown to become a Fortune 500 company with more than 31,000 employees. It works extensively with the US Department of Defense, the US Department of Homeland Security, and the US Intelligence Community, including organizations like the NSA.
Leidos also holds a 13-year logistics contract with the UK Ministry of Defence, with the deal aiming to improve efficiency in stock control of food, clothing, general and medical supplies, as well as their storage and distribution.
"With its size, scope, and scale, the NEST contract is a marquee win for us," said Angie Heise, Civil Group president at Leidos. "Our ultimate goal is to provide intuitive, easy-to-use services that efficiently prevent or resolve problems for the NASA Community, enabling them to have seamless IT services for their critical missions."