This week has proved remarkably different for two Australian start-ups providing Internet of Thing connectivity from satellite constellations.
One, Myrotia, raised money from a bunch of investors, including the CIA and Australia's former Prime Minister. The other, Sky and Space Global, filed for the Australian equivalent of Chapter 11 bankruptcy.
Space is hard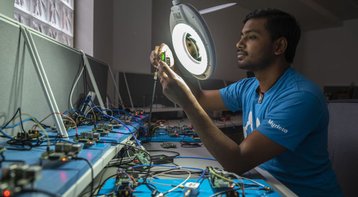 Myriota has raised AU$28 million (US$19.3m) from lead investors Hostplus and Main Sequence Ventures, as well as from Boeing HorizonX, the CIA's investment arm In-Q-Tel, Right Click Capital, Singtel Innov8, the South Australian Venture Capital Fund, and former PM Malcolm Turnbull.
The company, which has raised AU$50m (US$37m) in total, offers small Internet of Things devices that connect to four microsatellites the company currently has in orbit. Myriota was set to launch three more satellites, but that may be delayed by the ongoing Covid-19 pandemic.
"With this new round of funding, we'll continue to grow our network of satellites to deliver an affordable, environmentally friendly, and powerful solution to make data accessible for our global customer base," Myriota co-founder and CEO Alex Grant said.
The company plans to use the funds to grow its satellite constellation to 25 by 2022, increase its headcount by 50 percent, and continue with its international expansion.
Meanwhile, the future appears less promising for Sky and Space Global, which has entered voluntary administration.
Accountancy firm Hall Chadwick said a meeting with the company's creditors would be held within eight days from Monday.
In January, the company had a market cap of AU$70m (US$43m) and had raised AU$47m ($29m). "We would like to thank shareholders for their continued support, some of whom have been with us since we first listed in 2016," CEO Meir Moalem said at the time.
"We are excited by the pipeline of commercial opportunities and potential customers that await us in the year ahead."
The company expected to launch its first batch of nanosatellites in the first quarter of 2021, with commercial services to begin in Q2. But last month Sky and Space failed to raise AU$10.9m (US$6.6m) after several attempts.
Sky and Space originally planned to build a network of 200 satellites for Internet of Things (IoT) devices, starting with three test satellites. But that fell apart due to an unspecified contract with manufacturer GomSpace, and the company scaled back its plans to just eight.
Administrators Richard Albarran, Cameron Shaw, and Richard Lawrence, said that they were "undertaking a preliminary review and assessment of the company's operations with a view to determining the extent to which the company can be recapitalized."