Recently established data center business called Multigrid is building its first facility in Stockholm, placing the emphasis on recapturing and selling waste server heat.
The 5MW facility will become part of Stockholm Data Parks – a government-backed initiative launched in January 2017 that hopes to eventually supply 10 percent of the city's heating needs.
Multigrid says it will also become the first data center in a major European capital to reach a net energy cost of €0.03 per kWh of IT-load.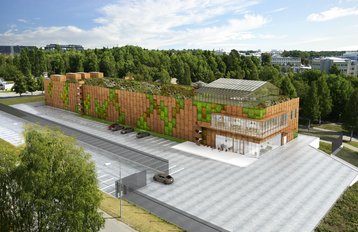 "We expect Multigrid's new data center in Kista to be at least 50 percent more efficient than traditional facilities," said CEO Mattias Ganslandt.
Waste not

Multigrid was established with a specific purpose – to build and operate data centers in Stockholm that take advantage of the city's extensive district heating system, the largest system of this kind in the world by the number of customers it serves.
The company's management includes two industry veterans with experience in waste heat reuse: Ganslandt was previously working on similar projects at local utility company Fortum Värme, while vice president Gustav Bergquist previously served as CTO at Banhof – a Swedish data center operator that has supplied Fortum with thermal energy for several years.
Multigrid's upcoming data center will be located in the district of Kista – the first of four sites earmarked for development by Stockholm Data Parks. The initiative is a joint project between the City of Stockholm, energy provider Ellevio, networking provider STOKAB and Fortum Värme.
"Kista offers very attractive conditions for large scale data centers," Ganslandt said. "Kista is Northern Europe's largest cluster of IT companies. The combination with attractive energy prices for large scale data centers is quite unique."
According to Multigrid, at full occupancy its facility could supply as much as 30 million kWh of thermal energy per year – enough to heat 10,000 residential properties. It is scheduled to open on January 1, 2019.
Other residents of Stockholm Data Parks already include Interxion, fashion retailer H&M and Borderlight – another recently established data center business that focuses on waste heat recapture.
In 2016, Sweden cut tax on electricity used in data centers by 97 percent, making the country much more attractive to data center developers.