Moro Hub, a subsidiary of Dubai utility DEWA, has begun to build a solar-powered data center.
The 100MW facility, announced in May, will be located in DEWA's 3,000MW Mohammed bin Rashid Al Maktoum Solar Park just southeast of Dubai. The eventual facility will be Uptime Tier III certified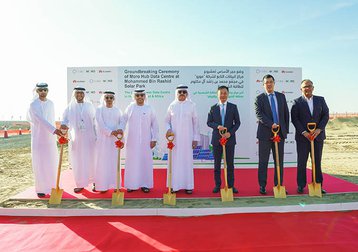 The data center will be implemented by Moro Hub, a subsidiary of Digital DEWA, the digital arm of the Dubai Electricity and Water Authority (DEWA). It will use 100 percent green energy from the solar park, and Moro Hub claims it is the largest solar data center in the Middle East and Africa.
"We work in line with the vision and directives of His Highness Sheikh Mohammed bin Rashid Al Maktoum, Vice President and Prime Minister of the UAE and Ruler of Dubai, to make Dubai a global hub for green economy and sustainable development," said Saeed Mohammed Al Tayer, MD & CEO of DEWA. "Breaking ground for the largest green data center in the Middle East and Africa confirms that we are on the right track to achieve the goals of the Dubai Clean Energy Strategy 2050 and the Dubai Net Zero Emissions Strategy 2050 to provide 100 percent of energy from clean energy sources by 2050, as well as the Dubai Demand Side Management Strategy, which aims to reduce electricity and water demand by 30 percent by 2030."
The data center is aimed at global hyperscalers wanting to locate capacity in Dubai, he said: "It will also help organizations in their sustainability initiatives to reduce their carbon footprint."
Huawei UAE's CEO Steven Yi said: "Data is quickly becoming the new engine for economic expansion and diversification. As more data center facilities are established in the future, this project serves as an exemplar of combining digital and power electronic technologies to create greener, low-carbon ICT infrastructure powered through renewable energy."
This is Moro Hub's second solar-powered data center in Dubai launched by Moro Hub - the first is a 3,402 sqm (36,600 sq ft), 8.8MW Tier III-certified data center in the Dubai Marina, launched in October 2020