Construction firm Urbacon has moved up the opening date of the largest data center in Montreal by six months, hoping to have clients online by the end of the year.
The new ten-storey data center, built as an extension to an existing four story building on 43,000 sq ft, ( 4000 sq m), will be the first purpose built dedicated colocation facility to be opened within Montreal's financial district. It has been built with  funding from real estate funds Fonds immobilier de solidarité FTQ,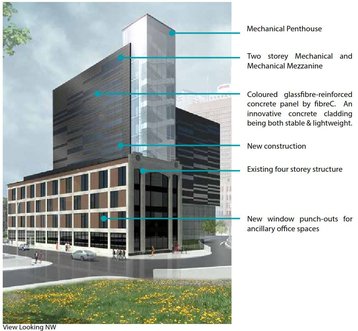 Eight floors of data
The data center will have eight floors dedicated to data halls, with two reserved for mechanical plant, and offices in the original four story structure on the property.
Each floor will have from 20,000 to 28,000 sq ft (1800 to 2600 sq m) of hall space per floor. The site has a total panned capacity of 20 MVA, but it will open with 8 MVA available for customers. Each floor will have two dedicated backup generators, with underground fuel storage on site.
The project is also a proof of concept for Urbacon and Fonds immobilier de solidarité FTQ on the practicality of multi-story data centers in urban settings. Normand Bélanger, President and CEO of the Fonds Immobilier de Solidarité FTQ, said that "Our project proves that the barriers to multi-story data center adaptive reuse are mythical, and these developments actually represent an opportunity to build scale and reduce costs."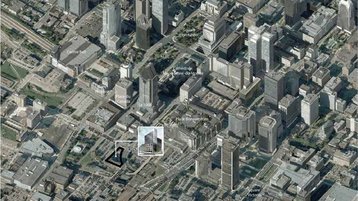 Actual layout of the data hall on each floor will be able to be customized to meet the needs of the customers, with ceiling heights over 16 ft and load bearing capability of 200 lbs per square foot (8kg per sq m). Citing a lack of carrier hotels in the area, Urbacon looks to bring in multiple carriers so as to provide both data center and connectivity options for customers.
DTZ Global Data Center Solutions Group is consulting on design and development of the project, and will lead a team of Canadian brokers in the leasing phase of the project.