French firm Modul'Data Center has delivered a containerized data center module to chemical company Solvay.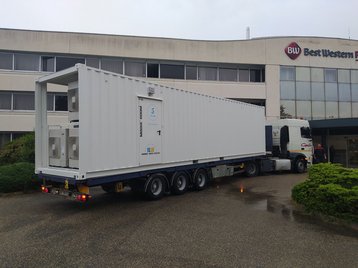 First reported by DCmag.fr, Modul recently delivered the shipping container-sized module alongside Rosenberger OSI and Eaton.
On LinkedIn, Remy Febvre, CEO of Modul's parent company IPenergy, said Solvay had ordered three such modules. Solvay has multiple locations across France, and it is unclear where the modules have been deployed.
Founded in 2006, Modul'Data Center is a subsidiary of network services firm IPenergy, offering containerized data centers of various sizes and associated services.
The company says its prefabricated Modul' Room modular data center can be delivered in 4 to 6 months and offer a PUE as low as 1.03 at densities from 5-40kW.
Solvay is a Belgian chemical company offerings materials across numerous sectors including aerospace, construction, electronics & batteries, automotives, food, healthcare, and more.