UK modular data center firm Sonic Edge has announced plans to deploy dozens of modules across the country.
"Very excited to announce that Sonic Edge will be launching 50 new HPC/EdgePods at locations across the UK this year and into early 2024," the company said this week. "Sonic Edge has partnered with Deep Green to offer customers extremely low power costs for High Capacity Computing using the benefits of immersion cooling technology."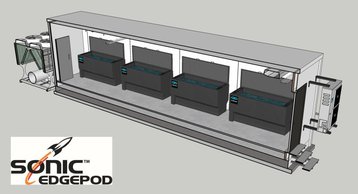 The deployments will range from 50kW to 2MW, with the pods reportedly utilizing immersion cooling. Locations weren't shared.
Sonic Edge said the partnership with Deep Green will ensure that the data centers will be powered by low-cost, carbon-free energy sources, reducing the environmental impact of HPC operations.
Founded in 2021, Sonic Edge offers multi-tenanted or single-user prefabricated data center pods in capacities ranging from 50–100kW and can use direct expansion (DX), chilled water, and immersion cooling. The Sonic Supermax pod starts at 20 racks and can reach up to 100+ racks.
The company was founded by Stuart Priest, who previously held roles at Rittal and Panduit.
"We believe the launch of our HPC data center estate across the UK is a significant development for the UK's HPC market allowing customers to access high-performance computing at a much lower cost than traditionally has been the case with a greatly reduced environmental impact," Priest said.
The company recently said it was able to develop a modular pod solution capable of handling up to 400kW of compute using immersion cooling technology in partnership with Submer.
"The first of these beasts will be delivered in August to a site in Berkshire," the company said.
Deep Green is a new UK startup looking to deploy compute at swimming pools across the country and use the waste heat to warm the pools.
Deep Green has installed a 28kW system that runs an HPC cluster available to cloud customers at a leisure center in Exmouth, Devon. Deep Green CEO Mark Bjornsgaard has said that his company originally had a target of installing digital boilers in seven swimming pools in 2023, but has upgraded that to 20 in response to demand.
Deep Green's site has branding from Dell, Nvidia, and US immersion cooling specialist GRC, but apparently builds its own tanks, which could reach a capacity of 40kW. The company has previously told DCD its tubs contain 12 four-CPU cards using AMD Epyc single CPU servers from Dell, each configured with four A100 80Gb PCIe GPUs and 4TB of SSD.
Have a listen to our Zero Downtime podcast episode with DeepGreen's Mark Bjornsgaard here: