Owners of Tesla electric cars across several US cities have been affected by disruption to their vehicles' Internet connectivity, apparently caused by an outage at AT&T, Teslarati reports.
The Tesla S and X models in the US rely on AT&T's 3G and LTE networks to access the Tesla Nav internal navigation software and various other in-car services, including music and remotely activated air conditioning.
Users also discovered they were unable to use the vehicle's native iOS and Android apps. When they tried to adjust climate control settings, app users were presented with a time-out message that said: "A Connection to the Vehicle Could Not Be Made".
Problems were first reported at about 12:30 PDT on August 15, in cities including Los Angeles, Kansas City and Indianapolis, and more widely in the states of Pennsylvania, Georgia and Virginia.
"Tesla's problem"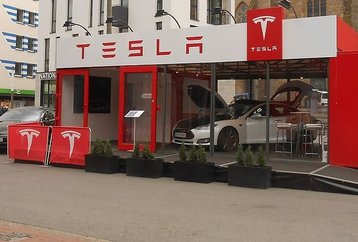 Tesla's navigation system connects to Google Maps to provide directions and traffic information, but several vehicle owners highlighted via the manufacturer's official forum the problems they experienced.
Callers to Tesla's Owner Support helpline were told "it is Tesla's problem, system-wide, and they're working on it".
One owner ditched the car's 3G link and switched to a Verizon wireless hotspot, at which point all services were restored, suggesting that the problem was indeed with AT&T network.
AT&T provides high speed wireless connectivity to Tesla vehicles in North America as part of a deal announced in 2013.
The telecommunications provider suffered outages across the US over the weekend beginning 13 August, affecting Internet and mobile services to its customers, who reported loss of connection via Twitter and on Downdetector.
Marco Papa, writing for Teslarati, said the difficulties highlight Tesla's reliance on service providers "for its smart device on wheels", pointing to the fact that the network is a single point of failure that requires adequate backup systems.
Mass market move
Tesla reported a Q2 loss of $293 million earlier in August, following an increase in costs and a drop in sales. It shifted 14,402 vehicles over the period, short of its 17,000 unit target. Nonetheless, its revenues rose 33 percent to $1.27 billion and its shares rose slightly after the earnings call.
At the same time, the company announced plans to bring forward manufacturing of its Model 3 vehicle by two years, an entry-level car which targets the mass market. It will begin production later in 2016, and is slated to hit the market in 2017.