Japanese conglomerate Mitsui & Co. plans to deploy a supercomputer focused on using generative AI for drug discovery.
'Tokyo-1' will consist of 16 Nvidia DGX H100 systems, each with eight H100 GPUs. That translates to around 3.84 peak petaflops, or half an exaflop of AI performance.
The system will be launched this year, with further upgrades planned in the future.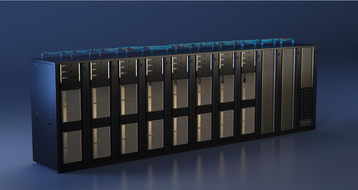 Believed to be the generative AI supercomputer for the pharmaceutical industry, Tokyo-1 will be operated by Mitsui's AI drug discovery subsidiary Xeureka.
"Japanese pharma companies are experts in wet lab research, but they have not yet taken advantage of high-performance computing and AI on a large scale," Yuhi Abe, general manager of the digital healthcare business department at Mitsui, said. "With Tokyo-1, we are creating an innovation hub that will enable the pharma industry to transform the landscape with state-of-the-art tools for AI-accelerated drug discovery."
Among the workloads planned are molecular dynamics simulations, large language model training, quantum chemistry, and generative AI models that create novel molecular structures for potential drugs. The company will also use Nvidia's newly launched BioNeMo drug discovery software and service.
"Tokyo-1 is designed to address some of the barriers to implementing data-driven, AI-accelerated drug discovery in Japan," Hiroki Makiguchi, product engineering manager in the science and technology division at Xeureka, said. "This initiative will uplevel the Japanese pharmaceutical industry with high-performance computing and unlock the potential of generative AI to discover new therapies."
The supercomputer will also be used by other Japanese pharmaceutical companies, including Astellas Pharma, Daiichi-Sankyo, and Ono Pharmaceutical. Mitsui also plans to make the Tokyo-1 supercomputer accessible to Japanese medical-device companies and startups.