In its earnings results for the fourth quarter of 2017, Microsoft increased its revenue over the previous year by 11 percent to $28.9bn, beating analyst expectations of $28.4bn.
The company's Azure cloud platform was yet again showing considerable growth, with a 98 percent revenue jump. The server products and cloud services division, which includes Azure, grew 18 percent in total.
All about that cloud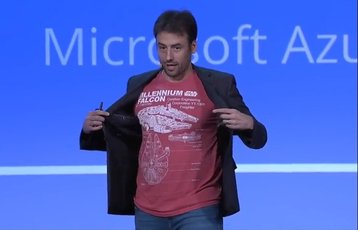 "Only Microsoft delivers hybrid consistency, developer productivity, AI capabilities, and trusted security and compliance," Microsoft CEO Satya Nadella said in an earnings call (via Seeking Alpha). "This architectural advantage helps us address both existing enterprise workloads and new workloads such as IoT and Edge AI.
"To thrive in this new era, customers need a consistent stack across public cloud and the edge, a model Azure Stack uniquely enables.
"Since broad availability just a few months ago, we are seeing incredible customer demand for Azure Stack across a diverse set of industries."
Nadella added that "gaming also is a growth area for Azure," with his comments coming just days after Microsoft acquired PlayFab, a game development startup that runs backend services for 1,200 cloud-connected games with more than 700 million players.
Nadella also explained how the company approached data center projects worldwide: "I mean, overall we did take an approach that we want to make sure we meet the real world needs across the globe.
"And we'll continue to do so, when we look at our CapEx spend we want to make sure that the data center regions meet the needs of our customers globally across both consumer workloads and enterprise workloads, where real data sovereignty requirements and speed-of-light issues are already relevant."
Despite the strong results this quarter, Microsoft technically made a loss after paying $13.8bn in taxes on offshore earnings as it repatriated overseas cash to take advantage of recent US tax reform.