Microsoft is taking its database rivalry into Oracle's home territory - the Unix family of operating systems. The company has announced that the 2016 release of SQL Server, traditionally a Windows exclusive, will also be available to run on Linux in mid-2017.
The move marks a major change for the once fiercely-proprietary company and further underlines Microsoft's more open approach to operating systems other than its own, a strategy that has been a major initiative since Satya Nadella took over as CEO.
An undisputed leader in desktop operating systems, Microsoft currently stands second to Oracle in databases - the latter has an estimated 40 percent market share, according to analyst firm Gartner. Microsoft's share is marginally over half of this, at 21.5 percent. The inevitability that Microsoft seems to have accepted is that without offering Linux support it would be extremely hard to cut into Oracle's lead.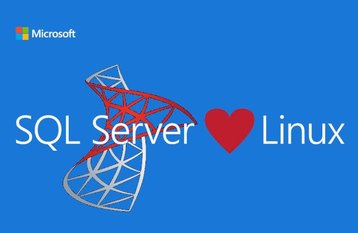 When worlds collide
Yesterday, Scott Guthrie, Microsoft's executive vice president for its Cloud and Enterprise Group, announced, "This will enable SQL Server to deliver a consistent data platform across Windows Server and Linux, as well as on-premises and cloud. We are bringing the core relational database capabilities to preview today, and are targeting availability in mid-2017."
Gartner analyst Merv Adrian told Reuters, "Larry [Ellison, Oracle executive chairman and CTO] is not going to lose any sleep but, yes, they'll notice it. It's a significant competitive threat they didn't have before."
On Thursday, Microsoft's Data Driven event in New York will see the start of a marketing push in preparation for the release of SQL Server 2016 later this year. The preview of the Linux version will be a major talking point as Microsoft comes to terms with cloud environments outside its own Azure offering.
Al Gillen, group vice president for IDC's enterprise infrastructure analyst team, commented, "This is an enormously important decision for Microsoft, allowing it to offer its well-known and trusted database to an expanded set of customers. By taking this key product to Linux, Microsoft is proving its commitment to being a cross platform solution provider."
It is expected that the Linux product will have all the features of the Windows version. These include in-memory support for every workload, to enable alleged performance increases up to 30-100 times; security encryption whether the data is at rest, in motion or residing in memory; improved analytics using the company's R support for real-time predictive analytics on both operational and analytic data; business intelligence (BI) compatible with iOS, Android and Windows Phone mobile devices.
A major change, which will be greatly enhanced by Linux support, is the development of Stretch Database to allow customers to partition data workloads across on-premises and cloud based architectures. This built-in feature is expected to increase flexibility and lower costs, Microsoft has claimed.
"We are delighted to be working with Microsoft as it brings SQL Server to Linux," said Mark Shuttleworth, founder of Canonical, the company behind the Ubuntu Linux distribution. "Customers are already taking advantage of Azure Data Lake services on Ubuntu, and now developers will be able to build modern applications that utilize SQL Server's enterprise capabilities.