Microsoft is to acquire more than 100-acres in Malaga, Washington, that county officials say will be used for a new data center development.
Chelan Douglas Regional Port Authority commissioners on Tuesday signed off on a purchase and sale agreement with Microsoft for about 102.5 acres in Chelan County.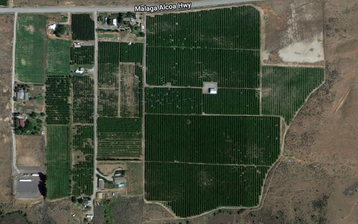 Port Executive Director Jim Kuntz told Kozi Community Radio: "Microsoft is looking at expanding their cloud infrastructure and has selected Chelan County as the next site to consider a very large investment."
The deal is spread across two phases; Phase I is the Lojo Property, 72.5 acres at 5375 Malaga Alcoa Highway for which Microsoft will pay $6.6 million. Phase II is the Curtis and Torres properties, 20 and 10 acres, at 5351 Malaga Alcoa Highway and 5309 Malaga Alcoa Highway, respectively for which the company will pay $2.6 million.
"Today's approval of the purchase and sale agreement by the Port Authority is an important step in our purchase of the Malaga properties," a Microsoft spokesperson told WenatcheeWorld. "We will proceed with the remaining work to finalize the purchase, and we anticipate closing the property purchase this summer."
While the company hasn't confirmed the land will be for data centers, the agreements note Microsoft would use Malaga Water District water for "evaporative cooling of industrial server equipment."
Kuntz said the Authority has been in discussion with the company for more than a year. The port bought the Curtis Property for $1.5 million on April 11 and the Torres Property for $625,800 on Dec. 29.
The acquired land plots are close to the now-idle Alcoa Wenatchee Works plant. The aluminum plant, which opened in 1952, has been idle since 2015 but was announced as permanently decommissioned late last year.
Malaga is around 20 miles from Quincy, where Microsoft has a number of data centers.