Data centers and other buildings could be made from materials which store carbon, instead of using carbon-emitting concrete according to research sponsored by Microsoft.
Concrete contributes eight percent of the world's CO2 emissions, making it a worse polluter than the airline industry. But buildings could replace a lot of their concrete with natural materials which store carbon, including mushrooms, algae hemp, thatch, and plain earth, according to a research document sponsored by Microsoft and produced by the Carbon Leadership Forum (CLF) at the University of Washington.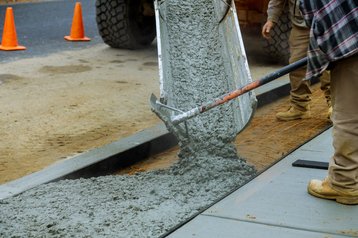 The paper looks at traditional materials and others that are at an early stage of development that could be used in floors, structure, and cladding of buildings, and concludes that the best six prospects are earthen slabs, concrete made with non-traditional cement, bricks, and panels made with purpose-grown algae or fiber, and structural tubes made from mycelium (threads produced by fungi).
Grow your own data center
"These materials warrant realistic enthusiasm and are worthy of investment to aid and accelerate their prototyping, scaling, manufacturing, and marketable use in the building industry supply chain," the report concludes. "In addition, opportunities exist for investment in educational and training opportunities in embedded apprenticeships in research, design, and construction labs, at manufacturing sites, and with professional design firms."
The concrete industry is huge and entrenched and, if it were a country, it would emit more carbon than any other nation in the world except China and the US. Concrete has a massive footprint because it is made at high temperatures which require a lot of energy input, and uses chemical reactions which generate CO2. Efforts to improve its footprint have included the use of other materials in the making of concrete.
Microsoft and Amazon have invested in a company called CarbonCure, which pumps CO2 into the concrete as it sets, and Compass Datacenters has used CarbonCure concrete in some of its buildings. However, this process only compensates for about five percent of the emissions from a given batch of concrete and it is only possible to use it in a small fraction of the concrete being used.
The CLF paper trawls existing literature to gather information about early-stage materials being developed in labs and startups which can do better than this - and includes a promise from Microsoft to help develop their use.
"Investing in a proof-of-concept plan to bring new carbon-storing technologies to market aligns with Microsoft's environmental values and pledge to become carbon negative in present day operations by 2030 and to remove from the environment all carbon emitted by the company historically by 2050," says the introduction. "Along with investing in new carbon-storing technologies, Microsoft's ambition is to accelerate the process globally by developing nascent technologies for suppliers worldwide."
In the study, Microsoft says it will champion low-carbon public policy, and support efforts to educate students to remove barriers to using these novel materials, with an "Idea" program (Integrated Design, Engineering, and Architecture) to promote carbon-storing material, delivered through colleges and Microsoft's Climate Innovation Fund.
A 2020 CLF study funded by Microsoft looked at materials ready for use now, including timber and bamboo. The current study looks at what's coming down the pipeline, checking which materials are available, how far advanced they are, where they can be used and what the risks are. Here are some front runners.
New materials
The report finds that algae has a lot of potential. Bricks can be created by growing algae in a mixture of sand, seawater, and cyanobacteria, says the report: "These 'living bricks' are a concrete-like alternative that can be grown on demand."
Alternatively, bricks can include by-products of algae grown as biofuel - the residues can be turned into "biochar", a stable solid which stores CO2 for very long periods. Or raw algae can be mixed into more conventional concrete, storing carbon and making it carbon neutral.
Mushroom root structures or "mycelium" have a lot of potential. They can be grown in agricultural residue, and have already been used in materials such as insulating foams, replacing petrochemicals. The report says they can potentially be developed and formed into tubes which can replace some structural steel.
There's a lot of vegetable residue produced from our agriculture, which can be treated as "biomass" and burnt for energy - or alternatively incorporated into building structures where its carbon is not released into the atmosphere. This could include straw, which could be used in bales or thatch panels, or nutshells included in concrete aggregate.
Bamboo, cork, and hemp can be grown deliberately for structural use.
More prosaically, hard-packed earth slabs could be used instead of the concrete slab floors generally put in new buildings. "Despite centuries of historical precedent, surprisingly little research has been devoted to the idea in a modern context," the report says."Among those unaware of modern enhancements, the notion of an earthen floor tends to evoke associations of poverty and dirt, so the option is typically dismissed. For this reason, the making of earthen floors has remained a niche market, one not yet applied to modern buildings or seen as meriting any significant study."
Alkali-activated cements (AACs) make cement using slag or fly ash to replace some of the limestone used in traditional Portland cement, to reduce emissions.
Techniques like 3D printing could enable building components to be made more easily - and the report suggests that a good place to test and develop these ideas might be in the Edge (or what the paper calls the Micro-Cloud), where small data centers are put up quickly from manufactured components.
Prototypes and flagships
The report suggests that prototypes and proof-of-concept projects be put together quickly in 2022: "Once selected for FY 2022 engagement, each manufacturer would discuss with technology industry leaders their specific, realistic goals and expectations for prototyping based on what technology industry leaders envision as the desired end-use application."
For widespread use, the new materials will have to pass compliance and safety tests - which are hard to speed up. But the report advocates the use of new materials in flagship projects, an approach that has had results in getting some improved materials into use.
"Past experience bringing cross-laminated timber and mass timber materials to market has shown that low-carbon and carbon-storing materials are feasible and attain parity with more conventional alternatives in terms of cost, code compliance, and construction schedules," says the report. "However, these materials, lacking leverage on any of these fronts and needing significant investment to scale up production, have not achieved mainstream status."
Infrastructure companies with net-zero goals might consider building an actual concrete-free data center.