Microsoft is set to capitalize on its work on integrating field programmable gate arrays (FPGAs) into servers for machine learning workloads, by launching a specialized Azure cloud service.
Project Brainwave will be offered in preview, with a limited set of capabilities and allocations, and will only be available in the East US 2 region to begin with. The company also plans to offer Brainwave servers as on-premises edge deployments.
Microsoft's FPGA ambitions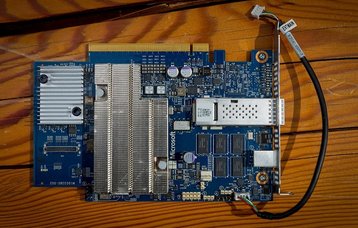 "I think this is a first step in making the FPGAs more of a general-purpose platform for customers," Mark Russinovich, chief technical officer for Azure, said at Microsoft Build conference.
Brainwave uses Intel's Stratix 10 FPGAs, and builds upon Microsoft's previous work with these chips. In Project Catapult, the company deployed FPGAs to speed up Bing searches, and FPGA-based network interface cards are currently used to accelerate its networks.
Every new Azure server comes with FPGAs pre-installed, already totaling more than an exaflop of compute power.
Microsoft positions Brainwave as an affordable way to run machine learning inference workloads, rather than the more complicated training workloads. For example, the company hopes customers will use the service for low-latency image recognition, and said some early adopters are doing just that.
American electronics manufacturer Jabil will use Brainwave to check ages of circuit boards for defective or misaligned parts, while Nestle's healthcare division will use the servers to analyze the severity of acne.
Using a standard image recognition model, it will cost customers 21 cents to process a million images - with a single image taking 1.8 milliseconds to process, the company claimed.
"It has five times lower latency than a TPU for real-time AI," Microsoft CEO Satya Nadella said at Build, presumably referring to Google's second generation Tensor Processing Unit (the company has now revealed a faster version).
He added: "We're going to extend it all the way to the edge. We're working with system partners to make it available wherever Azure is available."
Jabil has deployed the edge version in its manufacturing facilities, but this option is not generally available just yet. When it does come out, the system will be housed in a rugged server, initially from Hewlett Packard Enterprise and Dell EMC.
FPGAs have enjoyed limited, but growing popularity in the data center, with most of the world's circuits made by just two companies - Intel's Altera and FPGA-inventor Xilinx. In the April/May issue of the DCD Magazine, we talked to Xilinx's new CEO about his plans for the data center market and his hopes for the growth of FPGA-as-a-service offerings. To find out more, be sure to subscribe: