Microsoft Azure and satellite communications company Inmarsat are collaborating on industrial Internet of Things connectivity.
Under the terms of the partnership, Azure customers will be able to use Inmarsat's global satellite communications network, while Inmarsat customers will be able to use the Microsoft Azure IoT Central platform.
In an Inmarsat sat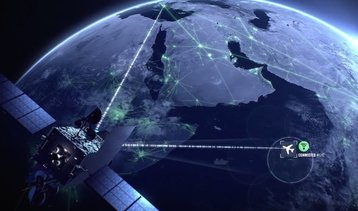 "This collaboration with Microsoft Azure is central to our Industrial IoT strategy and will enable our customers to access the data generated and processed by our intelligent edge IoT solutions, regardless of where their infrastructure is located," Tara MacLachlan, Inmarsat's VP of Industrial IoT Strategy, said.
"Analyzing this data and using it to optimize operations is where the fundamental value of IoT resides, and the applications that Microsoft can deliver through Azure and IoT cloud solutions will be critical to delivering this value to our customers."
Inmarsat owns and operates 13 satellites in geostationary orbit 35,786km (22,236 miles) above the Earth. It claims the world's most reliable L-band satellite network, with 99.9 percent availability for critical IoT applications.
"With Inmarsat, customers across industries from agriculture to mining and logistics sectors, will benefit from the power of the intelligent cloud and intelligent edge with global satellite connectivity in the most remote parts of the globe," Sam George, director of Azure IoT, said.
The announcement comes less than six months after Amazon Web Services announced a similar partnership with Iridium.
In December, Amazon also announced AWS Ground Station, which aims to build a global network of 12 ground stations "in close proximity to our global network of AWS infrastructure regions."
The facilities, which will be built in a joint partnership with defense contractor Lockheed Martin, will allow customers to pay per-minute of satellite downlink time. This, Amazon believes, should open up the market to companies that have not previously had the funds to build and operate their own satellite transmission infrastructure.