Microsoft will be investing in three upcoming 100 Gbps subsea cable projects, to improve connectivity between data centers located in different parts of the world. Two of them will connect North America to Ireland and the UK, while the third will link the US and Asia.
"As people and organizations expect data and information at their fingertips Microsoft must have an infrastructure that can deliver the cloud services, including Azure, which our customers need to support their global businesses," explained David Crowley, managing director for Network Enablement at Microsoft.
From the sea to the sky
In April, Microsoft's Commercial Cloud division - which includes Azure, Office 365 and other services - reported $6.3 billion in annual revenue, placing it on par with Amazon, which recently made public the financial performance of its Web Services division for the very first time.
Microsoft currently runs more than 100 data centers, edge computing nodes, and service operations centers. Earlier this week, the company announced it will be buying more fiber capacity to improve connectivity between geographically disparate facilities.
"The goal of our expansions and investments in subsea cables is so our customers have the greatest access to scale and highly available data, anywhere," said Crowley.
The first project to benefit from such investments is the 4,600 km Hibernia Express cable that will connect Canada, Ireland and the UK with a 100 Gbps network, expected go online in September.
Next, Aqua Comms will be laying $300 million worth of fiber linking New York to the Emerald Isle. The America Europe Connect (AEConnect) cable will span 5,400 km and go online in December 2015.
"AEConnect's state-of-the-art technology, 100 Gbps coherent design and direct data center-to-data center connectivity and optionality make it the optimal solution platform to drive the global expansion strategies and capacity requirements of data-driven organizations like Microsoft," commented Greg Varisco, COO of AquaComms.
Meanwhile, the 13,000 km New Cross Pacific (NCP) cable network will connect the US to landing points in China, South Korea, Taiwan and Japan. It is being sponsored by a consortium which includes China Mobile, China Telecom, China Unicom, Chunghwa Telecom, SoftBank Mobile and KT Corporation, and expected to launch in late 2017.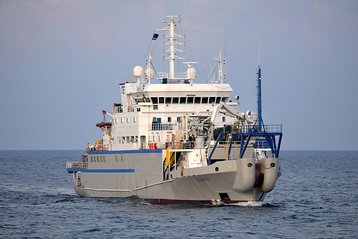 Intriguingly, all three projects are carried out by TE SubCom - a subsidiary of the American industrial networking giant TE Connectivity (formerly Tyco Electronics). TE SubCom manufactures the fiber cable and maintains a fleet of eight highly specialized vessels that run it across the bottom of the ocean.
So far, the company has produced over 490,000 kilometers of cable, used in over 100 subseea fiber optic systems.