Microsoft's site plan for its Mount Pleasant, Wisconsin, data center campus has been approved.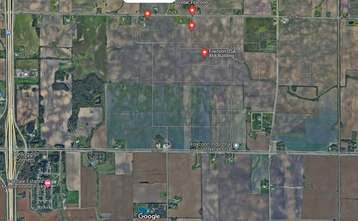 First announced in March, the Mount Pleasant project is already underway, with groundworks beginning in August. Construction work on the foundations is currently underway.
More details about the plans for the site were revealed at the Mount Pleasant Village Board meeting on September 25.
The campus will have three buildings in total for a combined 1.11 million sq ft (103,122 sqm), the majority of which will be comprised of the two data centers standing 61.5 ft and 26.5 ft tall - significantly shorter than the previous Foxconn manufacturing hub that was planned for the site which would have been 100 ft tall.
Construction will be occurring on the southern portion of the 300-acre property, accounting for 215 acres.
As well as the data center buildings, Microsoft plans to construct a 30 ft wall on the southeastern end of the property to shield the cooling equipment for the data centers and to help reduce noise. It will be partially hidden due to the landscaping including trees and a pond that separates the site from the road.
The detailed plans, which were discussed by the Village Board, were approved without opposition. The campus is set to be completed by 2026.