Microsoft has broken ground on a $1 billion data center in Mount Pleasant, Wisconsin.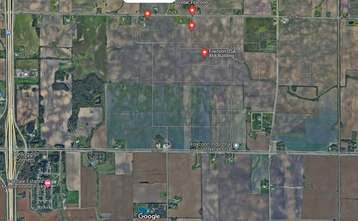 Plans for the facility were first announced in March 2023 at the 315-acre parcel of land at 90th Street and Highway KR, which was previously set aside for a Foxconn manufacturing hub.
The development was first reported by the Milwaukee Business Journal (MBJ). Along with the groundbreaking process, Microsoft has also announced that the lead contractor for the project will be Walsh Construction.
Excavation is currently underway at the site, and development of the foundations is set to start this fall. According to MBJ, the data center should be completed in 2026 and begin operations by the end of that year.
The project is expected to have a "significant impact" on the local economy and to provide thousands of construction jobs. The site was previously the location of some local grievances after Foxconn purchased the land in 2017 with plans for a manufacturing facility that would generate over 10,000 jobs. In the following years, however, the Foxconn project only delivered 1,454 jobs and investment in the site had fallen far below what Foxconn previously promised: $672.8 million, rather than $10 billion.
In June, Microsoft gained approval from the Village of Mount Pleasant for the planned development, and in July approval from the Wisconsin Department of Natural Resources to fill in some wetlands.
Lauren Million, deputy director of the Racine County Economic Development Corp (EDC), has said that the EDC will help local contractors gain certifications to help them get work on the project. "We're focused on encouraging businesses who are interested in getting involved and making sure they know the avenues to do that," Million said.
Microsoft is also looking to develop data centers in San Jose, California; San Antonio, Texas; Sterling, Virginia; and Hortolandia, Brazil, among others.
The cloud giant suffered a significant outage in Australia this week, with services down in its Australia East region.
More in Construction & Site Selection