US tech leviathans Microsoft and Facebook have announced plans to construct a new submarine communications cable across the Atlantic. Work on the project dubbed 'Marea' is set to commence in August 2016 with a targeted completion date of October 2017.
The cable will have the highest ever capicity of any transatlantic connection, sporting eight fiber pairs with an estimated design capacity of 160Tbps. It will be operated and managed by Telxius, the global telecommunications infrastructure company Telefónica created in February 2016.
Deep, south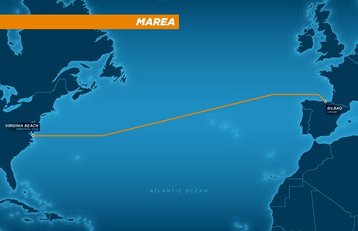 Stretching 6,600km, the cable will connect Virginia Beach, Virginia to Bilbao, Spain, marking the first time the US has been directly connected to southern Europe. Previous cables have predominantly connected the New York and New Jersey regions to Ireland and the UK (for a beautiful map of submarine cables in 2015, go here).
"If you look at the cable systems across the Atlantic, a majority land in the Northeast somewhere. This gives us so many more options," Facebook's vice president of network engineering, Najam Ahmad, said.
According to Christian Belady, Microsoft's general manager for datacenter strategy, planning and development, by being built further away from other cables, Marea will help ensure more resilient and reliable connections for its customers.
Marea (which is Spanish for tide), is set to be interoperable "with a variety of networking equipment", the Richmond company claimed. This 'open' design should make upgrades easier.
"In order to better serve our customers and provide the type of reliable and low-latency connectivity they deserve, we are continuing to invest in new and innovative ways to continuously upgrade both the Microsoft Cloud and the global Internet infrastructure. This marks an important new step in building the next generation infrastructure of the Internet," Frank Rey, Microsoft director of global network acquisition, said.
With around 1.6 billion Facebook users, and Microsoft's extensive cloud operations - ranging from Azure to Skype, Xbox Live, Office 365 and Bing - the reasoning behind this announcement is clear, but still marks a growing shift in the development of the submarine communications cable industry.
IT companies previously took advantage of cables laid by telecommunications companies, but are now increasingly providing partial funding, or even leading the investment. For example, Google paid for a submarine cable in Brazil, and was one of the companies behind the $300 million trans-pacific cable codenamed 'FASTER'.