Next year, Microsoft will introduce a VMware virtualization service, which will run on bare metal servers in its own data centers.
This will allow customers to connect virtualized applications to other services available in Microsoft's cloud, without having to migrate any assets.
Good timing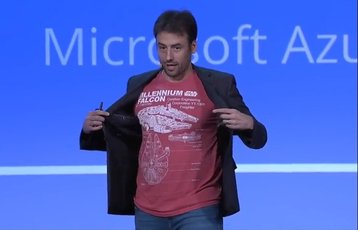 In a blog post introducing the offering, Azure Compute's head of product, Corey Sanders, said that although "hosting the VMware stack in public cloud doesn't offer the same cost savings and agility of using cloud-native services," the functionality would provide customers with "additional flexibility" on their path to Azure.
Amazon launched its VMware on AWS hosting service earlier this year, having announced the partnership in October 2016. The company is expected to announce a new range of services at the re:Invent conference next week.
Also next week, Microsoft will be rolling out Azure Migrate, which will simplify migration of VMware workloads onto its cloud. The company promises to help customers save up to 84 percent in costs when compared against the ongoing use of VMware software.
VMware was not consulted in the tool's development, Sanders told Business Insider- so it did not have to evaluate a service that could pose an existential threat to its virtualization business.
That being said, the migration tool could also be used as part of a hybrid architecture for customers wanting to keep some of their apps on-premises while running others in the cloud.