Earlier this year, Microsoft promised that it would become the first global cloud company to adopt AMD's new Epyc line of processors.
Now, Microsoft has announced that it has deployed Epyc in its data centers, and is offering the chips as part of the latest L-Series virtual machines, codenamed 'Lv2.' The x86 CPUs have already been incorporated into Project Olympus, Microsoft's open source blueprint for hyperscale server hardware, originally announced at DCD>Zettastructure 2016.
A first step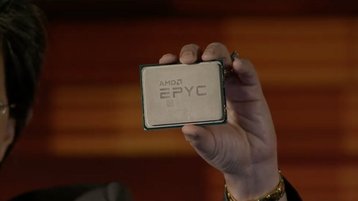 "We're very excited about working together with Microsoft to be the first global cloud provider to deploy Epyc in volume in their data centers," Scott Aylor, AMD's corporate VP and GM of enterprise solutions, said in a briefing call attended by DCD.
Corey Sanders, director of compute at Microsoft Azure, added: "The new Lv2-Series are high I/O, dense storage offerings which make Epyc perfect for Azure customers' demanding workloads.
"We've enjoyed a deep collaboration with AMD on our next generation open source cloud hardware design called Microsoft's Project Olympus.
"We think Project Olympus will be the basis for future innovation between Microsoft and AMD, and we look forward to adding more instance types in the future benefiting from the core density, memory bandwidth and I/O capabilities of AMD Epyc processors."
Microsoft will use the 32-core Epyc 7551, with a base frequency of 2.2GHz and a single core turbo frequency of 3GHz. Each Lv2 VM will offer between eight and 64 vCPUs.
Aylor said: "These L-Series instances tend to be those that are very high level storage coupled with high performance compute, which is a great fit as it relates to the attributes where Epyc is strong."
When asked whether there would be additional instances offered by Microsoft using Epyc, Alyor added: "We anticipate this being a continued broad and deep relationship. There are many different instance types where Epyc may be of value.
"Even though we're starting with L-Series, I don't want anyone to get the impression that's our only end game and ambition with Microsoft, there's lots of other good work in progress."
An AMD spokesperson also teased further cloud announcements before the end of the year. 
For more on AMD's Epyc aspirations, be sure to read our interview with CEO Dr Lisa Su from earlier this year.